November 2016
Associate Dean Newsletter - November 2016
Tracy Isaacs, Associate Dean (Academic)

Faculty of Arts & Humanities
Associate Dean's Newsletter, November 2016

Hi everyone. Can you even believe we're more than halfway through the Fall term already, with Reunion Weekend and Homecoming behind us? That final push to the end of term can be challenging for everyone. I can promise you that your professors do not get together to conspire to make all assignments, essays, and tests due at the same time even though it might seem that way. I hope it's some consolation that at the end of it all we're rewarded with a well-earned December break.
This month's Associate Dean's newsletter includes the following:

1. Congratulations to Scholarship Recipients
2. Make a note for next year: you can apply for scholarships
3. Important dates
4. On-line course feedback goes live this term
5. Fall Preview Day
6. Medical Accommodation
7. Final Exam and Midterms
8. Academic Counselling
9. Campus resources
10. Grade Submissions and extensions
11. Graduate School
12. Upcoming events
13. Artwork in Academic Counselling
14. News from The Arts and Humanities Students' Council
1. Congratulations, scholarships recipients!
The Faculty of Arts and Humanities awards thousands of dollars worth of scholarships each year. Congratulations to all of our students who earned these awards this year. It is a great pleasure to award these each year. Successful recipients of awards will very soon receive a letter informing them of their award and the amount (if they have not yet received it). 
2. Mark your calendar: apply for scholarships next year!

For those of you who may not be aware, there are a number of merit-based and needs-based scholarships available to students in the Arts and Humanities. We are working on a webpage that will list all of the awards available specifically in the Faculty. Some are awarded automatically and others require you to apply. You can find out more information about student awards here: http://www.uwo.ca/arts/current_students/undergraduate/awards.html and here: https://studentservices.uwo.ca/secure/Awards/main.cfm and
here: http://www.registrar.uwo.ca/student_finances/scholarships_awards/index.html
Students who wish to be considered for eligibility for needs-based scholarships need to submit the Financial Assistance Profile Application by September 30th (put this in your calendar for next year and do it in August to establish eligibility). Please see the Registrar's Office website: http://www.registrar.uwo.ca/student_finances/scholarships_awards/need_based_awards/index.html
3. Important Dates:
• November 5th - Last day to drop a first-term half course or a first-term full course (2016-17 Fall/Winter Term) without academic penalty
• November 30th - Last day to drop a full course and full-year half course [on campus day and evening and Distance Studies] without academic penalty
• December 7th – Classes end
• December 8th & 9th – Study days
• December 10th – 21st Midterms
• January 5th – Classes resume
Winter Term: Start Date and Add-Drop and other important dates
• January 5, 2017: Classes resume
• January 13, 2017: The last day to add a second term half-course or a second-term full course
• January 31, 2017: Deadline to apply for relief against a final grade in a first-term course
• February 20-24, 2017: Reading Week – no classes, tests, or exams
• March 7, 2017: Last day to drop a second-term half course or a second-term full course without academic penalty
• April 7, 2017: Fall/Winter Term classes end
• April 8, 2017: Study Day
• April 9-30, 2017: Final examination period
• April 14, 2017: Good Friday (no exams scheduled)
• April 16, 2017: Easter Sunday (no exams scheduled)
• April 30, 2017: Last day to receive applications for graduation: Spring Convocation
• For a full calendar of dates to be aware of at Western, see: http://www.westerncalendar.uwo.ca/operations/sessionaldates/2017.pdf
4. On-line course feedback goes live this term—please participate
Have you heard the news? Starting this term, course feedback from students is going to be handled electronically. You will still have a few minutes at the beginning of one of your last classes to answer the questionnaire about your learning experience in the course. But if you aren't there that day or if you aren't able to finish, you'll be able to complete it later (within a specified time period). Western values student feedback on courses. In the age of "like" buttons and "thumbs down" symbols, we're all good at reporting our gut reactions. When you're completing your course feedback questionnaires, please take your time and do your best to provide thoughtful feedback that reflects your overall sense of the course and its instructor.
5. Fall Preview Day – November 13th
Fall Preview Day will be held on Sunday, November 13th from approximately 8:30 – 3:00. Fall Preview is for prospective students interested in pursuing studies at Western. If you are interested in volunteering for this event, please contact your department no later than Monday November 7th.
 
6. Medical Accommodation
Here's a reminder about Western's Medical Accommodation policy. Please familiarize yourself with Western's Policy on Medical Accommodation, which should be stated in summary on your course outlines as follows:
Students seeking academic accommodation on medical grounds for any missed tests, exams, participation components and/or assignments worth 10% or more of their final grade must apply to the Academic Counselling office of their home Faculty and provide documentation. Academic accommodation cannot be granted by the instructor or department. A student seeking academic accommodation for any work worth less than 10% must contact the instructor
and follow the course specific instructions provided on the course outline. Final examinations must be written at the scheduled time unless formal alternative arrangements for a Special Examination have been approved (by the instructor, the Department and the Home Faculty Dean's Office) based on valid documented grounds.
Remember that if you do miss a midterm or final, fail to meet an assignment deadline, etc., for medical reasons, if the missed work is worth more than 10% of your final grade you will need to submit appropriate medical documentation to your Academic Counselling Office (IGAB 1N20) as soon as possible. This means seeing a physician and having them fill out the Student Medical Certificate, which you can find here: http://www.uwo.ca/univsec/pdf/academic_policies/appeals/medicalform.pdf. If you fail to submit the documentation in a timely manner, you may be denied accommodation. Remember that you do not need to see each professor individually and disclose your personal situation to them. Please see the academic counsellors about any accommodation, medical or otherwise, and let them communicate with your professors. Counselling drop-in hours are Monday – Thursday 9:30 – noon, 1:00 – 4:00; Friday 9:30 – noon.
7. Final Exams and Midterms in the December Exam period (December 10-21)
You can view the exam schedule by going to the Registrar's website (http://registrar.uwo.ca/examinations/exam_schedule.html)and clicking on "active exam schedules." The final version of the schedule should be up by October 31. Room assignments will be available by November 14. Please make sure you do not make travel plans on the basis of information obtained from the Preliminary exam schedule, which is subject to change. For sure, those of us with a great schedule (that includes me!) hope it won't change, and those of us with a not-so-great schedule hope it will. But keep in mind that it's a huge undertaking to schedule all the December exams and they can't all be at the best times on the best days. 
Please note there are study spaces available for students in both the Atrium of IGAB and the Arts and Humanities Library in AHB 2G30. 
8. Academic Counselling
Remember that the counsellors in our Academic Counselling Office are here to help you. If you want to discuss your academic programs, need help because of health emergencies or urgent personal circumstances that are affecting your studies, want to review your degree requirements, or have other questions about Western's Academic policies, please stop by to see Ben Hakala or Amanda Green. The counselling office is in IGAB 1N20 and our office is open from Monday to Thursday, 9:30-noon and 1-4, and Friday from 9:30 to noon. No appointments necessary. Our phone number is 519-661-3043.
9. Campus Resources
Across campus we have various activities and resources to assist students. If you feel overwhelmed or stressed, please reach out to someone and be aware of the resources available to you.
Student Development Centre: http://www.sdc.uwo.ca/
SDC has many resources, from individual counselling to learning skills. They are located in Western Student Services Bldg (WSS), Room 4100 and their hours are 8:30 – 4:00.
Learning Skills Services: https://www.uwo.ca/sdc/learning/index.html
Learning Skills Services offers valuable resources to help students with challenges including exam preparation and time management. They also host ongoing workshops to improve writing and learning. To find out more about what's being offered and to sign up, visit their website: https://studentservices.uwo.ca/secure/workshops/learningWorkshops.cfm
Wellness Education Centre: http://se.uwo.ca/wec.html
The Wellness Education Centre (in the basement of the UCC) is a safe environment where you can discuss the various resources available on campus.
Wellness events can be found here: http://www.events.westernu.ca/events/wellness/?dateType=start_date&startDate=11/1/2016&endDate=11/30/2016
Student Wellness Guide: http://westerncalendar.uwo.ca/pdfs/mhwrg.pdf
10. Grade Submissions
Course instructors must submit grades for their course a week after the final exam or, in the case of a course that doesn't have a final exam, a week after the end of classes. If you are unable to complete your course requirements because of documented reasons (usually medical) then you should speak to the academic counselling office (IGAB 1N20) about applying for an extension to the course work. This is called an "Incomplete".
11. Graduate School
If you are graduating soon, and your plan is to attend graduate school, please be aware that most deadlines for graduate schools are in January and February, so it is wise to check the websites of these institutions. There are also scholarships and grants available for students, which you should research.
Information about graduate school at Western can be found here: http://www.grad.uwo.ca/
More valuable information can be found here: http://www.success.uwo.ca/careers/graduate_school/index.html
12. Upcoming events
Turn Your Degree into a Career, November 8, 11:00am - 2:00pm, UCC Atrium
What are you doing after graduation? Have you considered a Western Post-Degree Program? One year career focused programs with hands on work placements that add valuable experience to your degree.
Forest City Film Fest, November 11-13
The first inaugural Forest City Film Festival takes place November 11-13 in downtown London! This festival honours film and filmmakers from the region, and will showcase new and compelling filmmakers and inspiring future. filmmakers.http://www.events.westernu.ca/events/arts-humanities/2016-11/forest-city-film-festival.html?date=2016111
Mountains & Rivers Without End | Artlab Gallery, November 18, 7pm to 9pm, VAC
The collaborative art exhibition, "Mountains & Rivers Without End", and the interdisciplinary conference both take place in Western University's Visual Art Department. The exhibition includes well-known artists from Canada and Ecuador;
http://www.events.westernu.ca/events/visual-arts/2016-11/11-Mountains-rivers-without-end-artlab.html
Western Performs! Concert Series: International Week, November 22, 11:30am, D.B. Weldon Library
The Western Performs! concert series is a collaboration between the Don Wright Faculty of Music, the School for Advanced Studies in Arts and Humanities, and Western Libraries. This annual series is an opportunity to build community by bringing music of all forms to public spaces both on and off campus.
http://www.events.westernu.ca/events/music/2016-11/western-performs-concert-1.html
You can find a full listing of all upcoming events here: http://www.events.westernu.ca/events/arts-humanities/?referrer=http://uwo.ca/arts/
13. Artwork in Academic Counselling
If you've been into counselling lately, you will notice that there are two pieces of artwork on display. We will be proudly displaying work by our Visual Arts students throughout the year.
Currently we are displaying Consumption by Kaylee Rose and a piece by Rebecca Sun.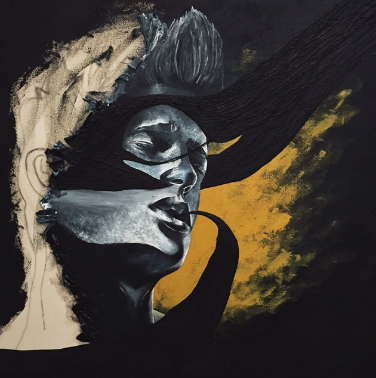 Consumption: Kaylee Rose
Mixed Media

The title of the displayed piece is Consumption and is meant to portray how our emotions can sometimes take control over what we do and what we decide not to do in everyday life, and how those emotions consume parts of who we are or who we could potentially be, if we were not so afraid.
Artist Bio:
Kaylee Rose is currently pursuing her BFA at Western University. She has always had a passion for the arts and has been involved in arts programs throughout her entire life. Kaylee began painting regularly in tenth grade and says that along the way she discovered which colours, paint type and style she leans towards. She mostly paints portraits of people in conceptual subject matter to make the viewer more intrigued as to what is happening in the piece. The artwork on display demonstrates Kaylee's preferred style, which she created whilst studying at the BealArt Foundations program last year while attending H.B. Beal secondary school.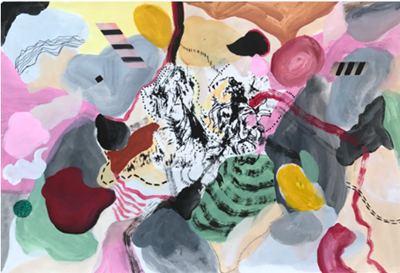 Untitled: Rebecca Sun
Media: Silkscreen printing, watercolour

In the displayed piece, Rebecca Sun explores unique ways to express the beautiful moments and spiritual essence of landscapes from her personal trips and experiences. She adds abstract geometrical shapes and organic elements in order to create movement when the audience views the work. Rebecca aims to create works that have interesting colour combinations in order to, as she says "let these soft colours speak more."
Artist Bio:
Rebecca Sun is currently pursuing her BFA at Western University. She was raised in north China near the Russian border, and has been in Canada for the last three years. Rebecca creates work that presents multicultural theme; her love of the natural world is reflected in the organic shapes portrayed. She likes to use soft colours in her art, as she feels that "they seem quiet and give the audiences a sense of safety." With these soft colours, she infuses her work with contrasting darker colours to imbue a sense of nervousness. She hopes that her work reflects the tensions and contrasts between dark and light.

14. News from AHSC
Date with a Book
AHSC's charity event, Date with a Book, is back! All books are wrapped in brown craft paper, so no peaking! Come and pick out a book or movie based off of only 3 short clues written on the cover. All proceeds go to London Arts Council. The event is November 9th in the UCC atrium.
FB event page: https://www.facebook.com/events/994018104057893/
Arts Market
The AHSC is very excited to announce the second annual Arts Market where you can purchase handmade creations and crafts from fellow Mustangs! It's a perfect time to start thinking about any gifts you will need leading into the holiday season. All proceeds go directly to the artist. Come out on November 1st to the UCC atrium to check out this cool event!
FB event page: https://www.facebook.com/events/1346581388708066/
Make you Smile Monday
In the IGAB atrium from 1-3pm on November 14th, drop by to participate in some painting activities. This mental health initiative new to this year runs one Monday a month and is intended to provide students with some stress free activities and resources for mental and physical well-being.
NaNoWriMo
The Coterie presents NaNoWriMo on Friday November 11th in the AHSC office, room ON20D, IGAB.
For more info, follow our AHSC Facebook page https://www.facebook.com/ahscwesternu/?ref=aymt_homepage_panel!
Above all, I hope you find some downtime among the chaotic frenzy that is November and early December. It can be a frantic time, making it all the more important to eat good meals on a regular basis, get enough sleep most nights, plan ahead with your school work to minimize (or eliminate!) all-nighters, spend some social time with friends, and incorporate some form of activity into your days to the extent that you are able. Bonus points if you can relax with a hobby or take time out to sit quietly (some call it meditation).

Yours sincerely,
Tracy Isaacs, Associate Dean (Academic), Faculty of Arts and Humanities