February 2018
Associate Dean Newsletter - February 2018

Tracy Isaacs, Associate Dean (Academic)

Faculty of Arts & Humanities
Dear Arts and Humanities Students,
I hope everyone is having a great winter term so far. Every term has its challenges and its perks. The best winter term perk is Reading Week (February 19-23). The biggest challenge of the winter term is, well, winter! As I write this we've just experienced a little break in the weather, with above zero temperatures. But oh, the grey skies and dark mornings! This type of weather can have a draining effect on people's moods and energy levels, so please take that into account and make sure you're looking after your well-being in healthy ways. Spring is just around the corner.
In this month's issue of the Associate Dean's Newsletter, I'll be covering:
Important Dates
Intent to Register
Reading Week
Applying to Graduate
Summer Courses
Upcoming events
Student artwork on display in the Academic Counselling Office
Resources for students struggling with physical or mental health
Volunteer Opportunities in Arts and Humanities 
IMPORTANT DATES
February 19th – Family Day.
February 19th to 23rd – Reading Week
February 23rd – In Absentia Convocation
March 7th – Last day to drop a second term half course
INTENT TO REGISTER
Dual Degrees with Ivey:
Did you know that it's possible to get your Honors Specialization in Arts and Humanities plus an Honors Business Administration degree from Ivey – that is, a dual degree – by adding one year to your studies?  For more information, speak to one of our academic counsellors and visit Ivey's dual degree webpage: https://www.ivey.uwo.ca/hba/program-details/dual-degree-opportunities/
The Intent to Register (ITR) period starts February 1st and runs until March 31st. If you are planning to return in September, you must complete your Intent to Register online through the Student Center. By completing your ITR online, you are letting Western know that you are returning and will also be choosing the program that you plan to take next year. It only takes a couple of minutes to complete this, so there's no need to let the task overwhelm you! If you do not complete your on-line ITR on time, you will not be able to register for courses. Here's some useful information about ITR, from the Arts and Humanities Counselling website: 
http://www.uwo.ca/arts/counselling/registration/intent_to_register/index.html
ITR is a very useful opportunity to review the courses you've taken so far and what you plan to take next, and is best done, if possible, in consultation with one of our Academic Counsellors in IGA 1N20.
READING WEEK
Reading Week is happening from February 19 to February 23 (that includes Family Day). I encourage everyone to take a time out from your studies for a least part of this week as a way of hitting the "reset" button and feeling fresh for the second half of the term. Please be aware that the Academic Counselling Office does not grant accommodations for students who miss classes, assignment due dates, tests, or anything else missed as a result of taking an extended Reading Week. If you decide to extend your break by leaving early or returning late, you are responsible for any academic penalties you may incur. Another way of putting this: Reading Week is just a week. Plan accordingly.
APPLYING TO GRADUATE
If you are intending to complete all of your degree requirements by the end of this term and graduate in the Spring, please visit the Convocation information page at
http://convocation.uwo.ca/preparing_to_graduate/student_checklist.html
This outlines what you need to do to ensure that you receive your diploma and are eligible to walk across the Convocation stage in June. Applications begin February 1st through to April 30th.
SUMMER COURSES
If you plan to take any courses during the summer, you'll need to activate yourself for summer registration. You'll be able to do that as of February 6th by logging in to your Student Centre and clicking on "Summer Activation" (right side under Student Services Links > Summer and PT Activation). Here is the link to this information: http://registrar.uwo.ca/course_enrollment/activation_services.html

UPCOMING EVENTS
Writing in the Arts and Humanities | Writing Support Centre
Date: February 5, 2018
Time: 12:30 pm - 1:30 pm
Location: Western Student Services Building (WSS)
Room: 3134
Cost: Free

Inward Outward | Artlab Gallery
Date: February 8 - 15, 2018
Time: 12:00 pm - 5:00 pm
Location: John Labatt Visual Arts Centre, Artlab Gallery
Cost: Free
Writing a Book Review | Writing Support Centre
Date: February 26, 2018
Time: 12:30 pm - 1:30 pm
Location: Western Student Services Building (WSS)
Room: 3134
Cost: Free
Overcoming Procrastination Lecture | Student Development Centre
Date: February 28, 2018
Time: 10:00 am - 12:00 pm
Location: Western Student Services Building (WSS)
Room: 3134
Cost: Free
For the most up-to-date list of Arts and Humanities events, visit the Arts and Humanities page of the Western Events Calendar: http://www.events.westernu.ca/events/arts-humanities/
ARTWORK IN COUNSELLING
We currently have some beautiful pieces on display which can be found on our website: http://www.uwo.ca/arts/counselling/about_us/office_art.html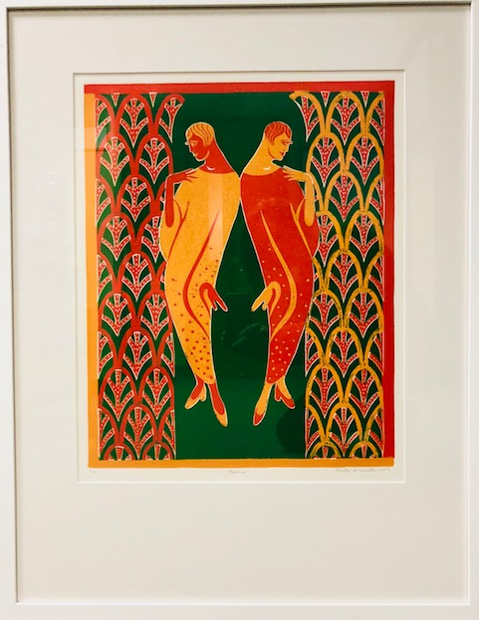 Poise (2017)
Artist: Reilly Knowles
 
RESOURCES FOR STUDENTS
Across campus we have various activities and resources to assist students. If you feel overwhelmed or stressed, please reach out to someone and be aware of the resources available to you.

Student Development Centre: http://www.sdc.uwo.ca/
SDC has many resources, from individual counselling to learning skills. They are located in Western Student Services Bldg (WSS), Room 4100 and their hours are 8:30 – 4:00.

Learning Skills Services: https://www.uwo.ca/sdc/learning/index.html
Learning Skills Services offers valuable resources to help students with challenges including exam preparation and time management. They also host ongoing workshops to improve writing and learning. To find out more about what's being offered and to sign up, visit their website: https://studentservices.uwo.ca/secure/workshops/learningWorkshops.cfm

Wellness Education Centre: http://se.uwo.ca/wec.html
The Wellness Education Centre (in the basement of the UCC) is a safe environment where you can discuss the various resources available on campus.

Wellness events can be found here: http://events.westernu.ca/events/wellness/?dateType=start_date&startDate=02%2F01%2F2018&endDate=03%2F31%2F2018
Student Wellness Guide: http://westerncalendar.uwo.ca/pdfs/mhwrg.pdf

Mental Health and Wellness Resources: http://www.uwo.ca/health/mental_wellbeing/resources.html
VOLUNTEER OPPORTUNITIES IN ARTS AND HUMANITIES
If you're an Arts and Humanities student who feels enthusiastic about what we're doing here in the Faculty and would like to help us spread the word, there are some upcoming opportunities for volunteering. These include:

• helping represent your departments by volunteering to speak to prospective students and their parents at March Break Open House on March 10 (free pizza lunch for volunteers!)
• helping out with our phone campaign where we call students who applied to us and have received an offer from Arts and Humanities at Western (co-curricular credit; refreshments)
• helping out with Arts Day (April 13th), when we welcome grade 11 students to campus for the morning to give them a taste of what it means to be a student in Arts and Humanities. 

If you're interested in helping out at any of these events, please contact Sarah McKay at arts@uwo.ca.
To find out about the latest news and events in Arts and Humanities, go to the Faculty of Arts and Humanities website: http://www.uwo.ca/arts/
To find out what's happening on campus, check out Western's events page: http://events.westernu.ca/
---
Let me close by wishing everyone a great February. I'll touch base again in early March to give everyone a pep talk about the end of term rush. Meanwhile, settle into February and enjoy your break in the third week. It's always a good idea to take some leisure and rest, not only during a week off but also as part of each day and week. Finally, remember that all of us in the academic counselling office are here to help you succeed. If you need guidance from an academic counsellor, please don't hesitate to drop in to see Amanda Green or Ben Hakala any time during counselling hours.
Yours sincerely,

Tracy Isaacs, Associate Dean (Academic), Arts & Humanities