Alumni Interview: Kayla Pecora
Alumni Interview: Kayla Pecora

Alumni Interview
Kayla Pecora
Sales and Account Manager, MS Schippers Canada
Interviewed by Jacqueline Grassi 
Area of Study: Visual Arts and Biology
Kayla Pecora comes from an interdisciplinary background at Western, and shares her advice for current undergraduate students as well as how her studies have translated to the workforce. Born in Canada and raised in the USA, Kayla is a huge animal lover, with "two awesome dogs and a really cool cat" Kayla also enjoys recreational sports and deep-sea fishing. From Kayla, we have the opportunity to learn from her diverse array of experiences, and how she has integrated her interests along with her time at Western into her career!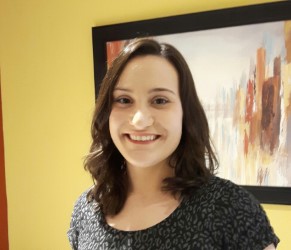 Q: How did you decide to pursue both Visual Arts and Biology?
I really just listened to people who told me as a kid to follow your passions and do what you like, for me this was always science and art.
Q: Was this a decision you made right away, or after you had spent time at Western?
I was actually in Psychology in first year, which I am also still interested in and still occasionally study independently. However, it was really the influence of my high school teachers who persuaded me to continue with art. Biology has always been most interesting for me. However, I see both disciplines as intertwined and equal in value.
Q: How did you balance the demands of both programs?
Balance posed one of my biggest challenges as student. I needed to produce a lot of art, additionally examining the context of theory and history, while science overtook me in study hours and lab work. As well, I was taking a greater amount of science courses to fulfill the credit requirements for a BSc, which drew me more towards this field. Beyond academics, I worked a part-time job and was involved with social clubs on the executive board. I had to really use time management skills and learn how to prioritize.
Q: What is one thing you recommend all students do during their undergrad at Western?
Every student at Western should attend O-week to start, and convocation to finish. If you have a study group, it is worth it to have a drink with some nachos (at some point) at The Spoke or Grad Club. Also, check out the Artlab in the visual arts building every now and then. Lastly, support your colleagues who are involved in clubs, as you could make life-long friends with like-minded people.
Q: In your later years of undergrad, how did you decide to pursue your chosen career? What advice do you have for recent graduates?
Exploring options and networking is the key, as many graduates may not end up exactly where they thought they would be. I find the best thing to do is to always engage in your interests and discover where they can take you. Tomorrow is always a new opportunity! I live by the Latin phrase (also my high school motto), Carpe Diem. The most important thing to remember is your end goal, even a mediocre job can have the potential to be a means to an end if you stay determined and focused through setbacks or challenges. This can provide a chance to reconsider and reflect on where you want to go in life, and help you to make a decision as to what you really want to offer the world. I believe the key is to keep dreaming and think big, reconstructing your notion of a position or career and challenging yourself to redefine your field or industry.
Q: What do you do in your job? What is your favourite aspect and how does it relate to your studies?
I mainly work with Ontario farmers to help increase their animals' health and well-being. I specialize in hygiene, water treatment, feed management, udder health, hoof care, transition, and agri-pest control; I provide solutions to farmers to improve in these areas. There is quite a link between my work and my studies, as many of the issues animals face are biological. Bacteria, viruses, fungi, parasites, or pathogens generally cause sickness in animals, which is why so many farmers understand why biosecurity is so important. I often research various sicknesses, as well as provide preventative measures to avoid future outbreaks. Although my current position suits my career path, this is not the exact route I expected to take. Since childhood, I always wanted to be a veterinarian. As I grew older (in high school), I was certainly considering a medical field. I was also interested in teaching Biology and Art subjects, about which I am the most passionate. I find the job I am doing now fits nicely into the genre I wanted to pursue, especially since I love animals.
Q: What skills from your undergraduate studies do you find that you use on a frequent basis in your current position? How much was "on the job" learning?
My undergrad taught me some skills that I still find myself using on a day-to-day basis, however I have also acquired skills mainly came from experience in real life and work. The main advantage university gave me is knowledge and understanding of complex concepts and ideas. I have had the chance to use my knowledge of science quite a bit in my current position. I work in agriculture to help improve overall health in farmer's barns; especially for dairy cattle, swine and poultry. For example, we launched a new product from Holland here in Canada for water treatment. I was selected to develop introductory material for our new water acidifier for pigs and poultry, and to train my colleagues on how the product works. Furthermore, the treatment of Strawberry foot in dairy cows without antibiotics, a project I have worked on with great efforts, relates to my studies of bacteria, immune responses, and antibiotic resistance at Western.
Q: How did you find the transition from the university to the workplace?
To become fully independent is liberating, yet it can be very difficult too. I began working at a young age to assist my dad with his business. As soon as I reached working age (in Florida it is 14 years old), I started working my first job at Panera Bread. By the time I finished high school, I was already fairly independent. As I entered first year of university, I had already had a lot of work experience obtained through different positions. The main challenge was adjusting my perspective to hold myself up to my true value. Once you realize how much you have accomplished, it can be mind blowing to think about the strides that you had to take to get to where you are today.
Q: What was the biggest change you noticed?
The biggest change for me was the overall atmosphere shift. Being a student on campus most of the time was almost like being in a bubble. It was safeguarded very well, and seemed very secure. I find the "real world" is much more turbulent and unguided. There isn't an academic calendar to just choose what you want to do in the next fiscal year, or guidance counselors to approach for advice, and you will find a broader spectrum of people and that peoples' character and behavior can have a great impact.
Q: Do you have a favourite visual artist or artistic movement? What do you think about artwork that combines biology and artistic concepts?
I am a big fan of Marcel Duchamp, Simon Starling, and Salvador Dali. Surrealism has always been an interesting movement for me, as I enjoy questioning the relationship between the unknown and reality. Art and Biology have been examined together and juxtaposed many times in history. I do find bio-art very interesting, especially contemporary artists who draw on these concepts together. Anytime we can question our ethics, God complexes, and challenge ourselves on humanity; to open ourselves up these questions is a good thing. I find that sometimes an artist has to push the boundaries of science even more than a scientist would to relay a concept. Art often gets us to stop for a second, to stand back and really think about what we are doing. I enjoy Simon Starling for this reason, as he addresses issues of limited resources and global warming.
Q: Where do you see yourself in ten years? Students often think about the transition between university and the workplace. Having made this transition, what advice would you share?
In ten years, I hope wherever I am and whatever I am doing is something I enjoy with great passion. As I know my interests, I see myself working with animals, using my science background, and a huge possibility for research. I enjoy supporting animal and human rights activists. There are many directions I can go in with these basic facts about myself, and there are endless opportunities. As long as there is room to grow and learn, this is what matters most to me. My biggest piece of advice to anyone would be to never let up on your ideas or dreams. It may take time to develop a way to make something work, or to finalize how to do or discover something. If you have your goal in mind everyday, you are getting closer to reaching it!