Program Counselling
Applied Mathematics Chief Academic Counsellor
Bogdan Tudose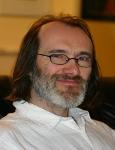 Position: Assistant Professor
Chief Academic Counsellor
Email: btudose@uwo.ca
Telephone: 519-661-2111 ext. 88777
Office: Middlesex College, Room 286
Personal Website

Education

Ph.D. Indiana University 1997
M.Sc. Indiana University 1992
B.Sc. University of Bucharest 1987

Research Interests

The Classical Limit of The Quantum Theory: Rydberg Wave Packet, Squeezed States
Geometrical and Topological Methods In Quantum Physics, Geometric Quantization
The Foundations of Quantum Mechanics

Representative Publications

Revivals Of Quantum Wave Packets (with R. Bluhm, V.A. Kostelecky, and J.A. Porter) in Proceedings of the 5th International Wigner Symposium, edited by P. Kasperkovitz, World Scientific, New Jersey, 1998
Revival Structure of Stark Wave Packets (with R. Bluhm and V.A. Kostelecky) Physical Review A55 (1997) 819
Wave-Packet Revivals For Quantum Systems With Nondegenerate Energies (with R. Bluhm and V.A. Kostelecky) Phys. Letters A222 (1996) 220
---
Academic Counselling Hours:
Monday: Professor Bogdan Tudose, 2:30 -3:30pm, MC 286.
Wednesday: Professor Chris Essex, 11:30am-12:30pm, MC 270
Thursday: Professor Allan MacIsaac, 10:0am-11:00am, MC 285
Thursday: Professor Pei Yu, 2:30-3:30pm, MC 283
  For all email inquiries:  apmaths-counsel@uwo.ca

More information on Science regulations concerning add/drop, letters of permission, transfers, etc. can be found at the Science Academic Counselling site.
If you are requesting to change into an Applied Mathematics module please fax your request to the Faculty of Science Academic Counselling Office at 519-661-3703.