Shelby Rabb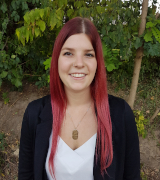 Program: MMASc in Global Health Systems in Africa Candidate
---
Shelby Rabb is a candidate in the Masters of Management of Applied Science program at Western University, specializing in Global Health Systems in Africa. She completed a Bachelor of Human Kinetics degree at the University of British Columbia's Okanagan Campus (UBCO) in Kelowna. An advocate for healthy living, Shelby promoted exercise within her community, through her role as UBCO's Vice President of the Exercise is Medicine Club. In the past year, Shelby has conducted research in a metabolism lab at her university, with emphasis on the effect that ketones have on type 2 diabetes, as she believes diet is an essential part of healthy living.
Motivated by her sister with autism, Shelby has devoted countless hours working alongside children with special needs. Specifically, whilst in Kelowna, her passion led her to work as a Behavior Interventionist. Whether it is volunteering in middle schools, leading swimming lessons or strengthening her connection with her sister, Shelby is actively involved with this population, with hopes of furthering her understanding of the people that comprise it. Ultimately, Shelby aspires to pursue a career in the medical field, where she hopes to work closely with vulnerable populations.
While attending the GHS program, Shelby believes it will help her to grow as a future doctor in hopes to gain insight and first-hand experience with populations that suffer from communicable diseases, lack of health care, and observe how different social determinants of health affect a population when many of the determinants are unsatisfied. The GHS program offers multiple opportunities to learn, grow, and thrive through their practicum in Africa that Shelby looks forward to attending.
Practicum Interests:

In my bibliography, I mentioned gaining experience with a population who lacks healthcare infrastructure and high rates of communicable diseases. I didn't mention in my practicum, I would really like to do something with maternal health, childbirth, mothers and their children and just children in general.