Samarth Fageria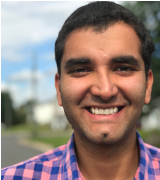 Program: MMASc in Global Health Systems in Africa Candidate
---
Samarth Fageria is a candidate for Master's of Management in Applied Science with a specialization in Global Health Systems in Africa. Prior to this, Samarth completed his undergraduate degree with an honors specialization in Biochemistry at the University of New Brunswick. After volunteering for more than 500 hours in a variety of health care settings, his passion for positive change has grown. Throughout high school and university, Samarth has worked at the Pediatrics Unit, leading and collaborating activities for children, the Veterans Health Unit, Outpatients Unit, Long-term Care home, assisting with recreation therapy programs for veterans and seniors, and the Hospice House and Boutique, providing care to the terminally ill patients. Working with seniors has shown him the delicacy that is life which is something that will only transfer into his learning as perseverance and dedication. Samarth has worked with national literacy organization, Frontier College. As a volunteer tutor and later as an intern with the organization, he worked to strengthen literacy and numeracy skills of refugee communities and international students coming from diverse backgrounds and cultures. He was an executive member of the University Red Cross Society where Samarth promoted the club, provided on-campus care at the blood donor clinics, and recruited university students for stem-cell donation for the Canadian Blood Services. Samarth has raised $ 1000 for Canadian Cancer Society and Canadian Heart and Stroke Foundation by canvassing around the community of Fredericton, New Brunswick.
Samarth's perspectives on life have been broadened through his work as a summer counsellor at a twelve-week-long residential summer camp called Camp Rotary. He worked with campers from age 7 to 85 who had physical and cognitive disabilities. Counsellors provided personal care such as toileting, bathing and grooming, organized games and activities for campers and supervised campers by being team leaders and collaborators. The counsellors and staff worked to provide campers with proper accessibility, nutrition, social support and environment. The experience taught him the importance of understanding and implementing effective health-related decision-making both at individual and community levels.

Throughout his undergrad, Samarth has worked in entomology and biotechnology research in the potato sector. During his final year, Samarth worked on a research project evaluating the impact of the physiological changes in potato crops due to pathogen infection. The results that he obtained were important for the food and health industry. Additionally, he was a Research Assistant at the Water and Environment lab in Civil Engineering the University of New Brunswick. His work involved organic waste stabilization through anaerobic treatment. Both the research experiences brought on a new-found respect for research and creative thinking, two skills that will aid in him being an effective global health professional that he would like to be.


What are you passionate about in global health systems?
My education to date has been a testament to excellence in natural sciences. I aspire, however, to gain solid information in global health systems (GHS), including aspects of leadership, policy and sustainability. During my growing up years, I witnessed poor social and cultural determinants of health and their impact on vulnerable populations. Ever since, I have been interested in providing health clinics and education programs to the underprivileged. Having lived in a different country and coming to Canada, I have an appreciation of diverse cultures and perspectives. During my practicum in Africa, I am looking forward to cross-cultural exchanges with local students and building strong relationships with the community. I am passionate to work collaboratively with community leaders and health care professionals and further study the social and cultural aspects of health and their impact on populations. The communications and management courses as well as the practicum experience in Africa will help me gain insight into the effects of social, behavioral, environmental, and cultural factors on a developing population. They will also enable me to use a multi-faceted approach to solve problems. The multi-faceted approach will be important when studying the intersectionality between various mediums such as nutrition, environment and health care.