Lily Zhang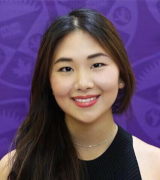 Program: MMASc in Global Health Systems
---
Lily Zhang is proud to be a Master's of Management of Applied Sciences Candidate, specializing in Global Health Systems in Africa at Western University. Prior to pursuing her master's degree, she coordinated complex, multi-stakeholder programs serving the inner city homeless with The Salvation Army. Having lived on a First Nations reserve in northern Alberta while leading community development projects for the University of Alberta and local Chief and Council, Lily brings with her unique insights. She is most proud of her work with First Nations Elders in researching cultural knowledge and protecting historic sites. Lily was ultimately trusted to consult on land settlements with government officials and was a part of a team tasked with creating and delivering diverse community-driven programs and services. 
 Passionate about public engagement, she is a fierce advocate for public education, given its fundamental role in shaping health perspectives and shifting the scale from the individual to cumulative pressure on governments and industry to create and maintain a prosperous population. Lily continuously commits considerable time to leadership positions with both local and international non-profit and social profit organizations, including the University of Alberta's Student Union, Big Brothers Big Sisters, C2C Association, and the Homeglen School of One. 
 Having recently completed her Bachelor of Arts in Human Geography from the University of Alberta, Lily brings academic expertise in emergency management and urban planning. Specifically interested in the unique epidemiological and social challenges facing rapidly urbanizing communities, she is pursuing this program, including its practicum in Africa, with the aim of further developing the needed competencies for managing transdisciplinary teams and large data sets in the health sector. After the program's completion, Lily will dedicate herself to managing complex development, sustainability, and resiliency projects.