Yvette Kabamba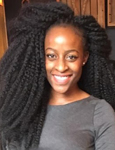 Program:
 MMASc in Global Health Systems Candidate
---
My name is Yvette Kabamba, a candidate in the Master of Management of Applied Sciences, specializing in Global Health Systems in Africa at Western University. I graduated from Guelph University in 2015 with a Bachelor of Science in Biological Sciences. Upon graduation, I worked in Ottawa for a global infant nutrition company for two years while volunteering with the Aids Committee of Ottawa (ACO) along with other organizations. While at ACO, I partnered with faculty from Ottawa University to work on a tri-city community-based participatory research aimed at informing health policies for women living with HIV. I also facilitated discussions and participated in education campaigns about the virus within the community. Within the African context, I am mainly interested in health service provision, delivery and coverage, ensuring that members of society have access to healthcare. Given our learnings so far, it is evident that I will first have to learn how to effectively address the multi-faceted issues that intersect with health systems before working towards making healthcare affordable and accessible to low income persons. As the population grows and health inequities persist, it is becoming increasingly important to address these issues while we still can.
What are you passionate about in global health systems?
I really enjoy the wholesome approach the program takes to looking at health issues by tackling them from many important angles, such as the social, political & economic standpoint and so on. It has trained me to recognize that some problems can not be addressed head-on as they are often multi-layered and multi-dimensional. As I anticipate the future, I appreciate the value of having such a mindset, knowing that it will inform my problem analyses and decision-making processes.