Vijay Gupta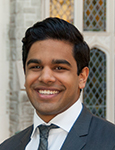 Program:
 MMASc in Global Health Systems Candidate
---
Five years ago I had the opportunity to travel to Tanzania with my high school, where I climbed Mount Kilimanjaro and tutored English at a local orphanage. This was the first time I witnessed abject poverty; the kids had nothing but the clothes on their backs. I experienced pride in tutoring and mentoring impoverished children and told myself that one day I would go back to make an even greater impact. Personally, I was shown how an international experience develops crucial life skills such as leadership and communication. These skills are difficult to develop and are essential to carry into any professional career.
After a presentation in my 4930G medical science class that promoted the masters of management of applied science (MMASc), I discovered that I can again take advantage of an international opportunity to further develop my own skill set, which will help prepare me as a confident professional. By bridging the gap between science and the essential skills of leadership, communication and organization, the MMASc Global Health Systems in Africa program will prepare me as a professional and help me grow as an individual. I am excited to go to Africa and make a difference in the community.