Mahnoor Gohar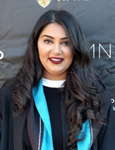 Program:
 MMASc in Global Health Systems Candidate
---
Mahnoor Gohar received her Bachelor's of Honours Science from the University of Waterloo, where her interests in human behaviour also led her to complete a minor in psychology. Currently, she is a candidate for a Master's in Management of Applied Science, specializing in Global Health Systems at Western University. For the last three years, Mahnoor has spent countless hours working in the Geriatric Outreach Department of St. Joseph's Health Centre as a Junior Program Coordinator. In her time at St. Joesph's, she addressed the needs of elderly participants by creating and facilitating innovative cognitive and physical programs based on client need and ability. She was also involved in supporting Overnight Stay clients in completing all Activities of Daily Living which included personal hygiene, oral care, bathing, grooming, and dining. Her work experiences motivated her to take on the role of a research assistant with the Canadian Mental Health Association, where she looked at the frailty experiences of seniors within the community and the disease outcomes associated with the environment they lived in. Her involvement within the research facilitated the successful publication of the paper, Helping Seniors with Increased Frailty Experience Quality Health Care. In her volunteer endeavors, Mahnoor was able to develop a resource information path that identified local mobility options for seniors as a Student Project Assistant at Trellis Mental Health and Developmental Services. This project resulted in a brochure that was distributed by physicians and geriatric community partners within the Waterloo-Wellington Region. Mahnoor also served as a volunteer with the Canadian Blood Services at the University of Waterloo Clinics. After a successful year of monitoring and engaging with donors, serving nutritional snacks, facilitating donor registration, and creating a safe environment for clinic operation, Mahnoor was selected to be the Lead Volunteer Coordinator. In her new role and in addition to previous duties, Mahnoor was now responsible for recruiting, training, scheduling, and maintaining volunteers. Mahnoor's academic, work, and volunteer experiences have given her a mosaic of perspectives and an appreciation for cultural diversity which she believes will allow her to combat pressing health issues on a global scale.
What are you passionate about in global health systems?
In an era where globalization is omnipresent, health equity seems to be deteriorating. Access to appropriate healthcare has become a luxury rather than necessity. Due to the complex nature of health disparities, in addition to growing pharmaceutical dependence, fundamental issues of impoverished communities are often overlooked. My pursuit of the program is reinforced by my desire to work alongside private and public organizations to address these issues and eliminate poverty as a barrier to accessing healthcare. I hope to cultivate an environment of health by facilitating the development of community health clinics, clean water sources, agricultural infrastructure, and educational programs.