Lauren Waichenberg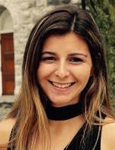 Program:
 MMASc in Global Health Systems Candidate
---
Lauren Waichenberg is a Master's of Management of Applied Sciences Candidate, specializing in Global Health Systems in Africa at Western University. She completed her Bachelor of Science in Life Sciences at Queen's University. During her undergraduate studies, Lauren was part of the executive team of the Life Sciences Publication on campus, which is a student-run newspaper that worked to educate the student body on medicine, research, and health. Aside from her writing experience, Lauren volunteered for The Canadian National Institute for the Blind, during which time she provided assistance and care for a client that was seeing impaired.
She gained hands-on experience in the healthcare field both while volunteering in a clinical setting, as well as undertaking a research project in a pathobiology laboratory. For two summers Lauren volunteered at Mount Sinai Hospital in Toronto, working with patients in the medical imaging department, as well as carrying out basic lab techniques in a genetics lab. Her recent research project looked at the development of a non-invasive prenatal genetic diagnostic, which if successful, could greatly contribute to the field of diagnostic screening. In addition, Lauren has spent 5 summers working at a day camp for children between the ages of 2 and 4, and as a result, Lauren has developed a passion for working with kids. Her main interests lie in reducing the disparities in childhood mortality in developing countries by combatting infectious diseases, inequitable education, and inaccessible healthcare. She hopes
to combine her science background, global health education, and passion for healthcare and medicine in her endeavours in Uganda, as well as in her future aspirations.