Jill Meilach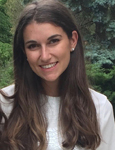 Program:
 MMASc in Global Health Systems Candidate
---
Jill Meilach completed her Honors Bachelor of Science degree in Biology and Medical Sciences at
Western University in London, Ontario in 2017. Since high school, Jill has been highly interested in
healthcare, particularly in areas that emphasize working collaboratively and forming interpersonal
relationships. Jill's summers as an undergraduate student were spent volunteering as a clinic assistant at
Mount Sinai Hospital in Toronto. She also spent one summer volunteering as a first responder through
the Magen David Adom ambulance service in Tel Aviv. Through these experiences she discovered her
interest in health equality and working in a hands-on environment. She is also incredibly passionate
about education, specifically ensuring all children have equal access to education and opportunities,
having volunteered as a tutor for underprivileged students through the Hope for Relief tutoring program
in London, and more recently at the Learning Disabilities Association London Region tutoring program.
Her interest in equal opportunities for children also stems from her experience working at a camp for
children with special needs this past summer, where she saw the incredible accomplishments her
campers made when they were given the opportunity to succeed. Jill is currently back at Western
University as a Maters of Management of Applied Sciences Candidate, specializing in Global Health
Systems in Africa. She was interested in participating in this program because of her desire to pursue a
career where she will be involved in improving healthcare inequalities and providing sustainable
solutions for vulnerable communities. She hopes to examine access to education and its relation to
health and well-being from a global health perspective by looking at the social, economic and cultural
contributions. Jill is looking forward to applying this perspective during her practicum in Uganda and
throughout the rest of her career.