Dyana Wilkinson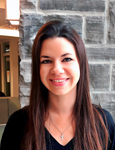 Program:
 MMASc in Global Health Systems Candidate
---
Dyana Wilkinson, born in the Yukon, completed her Undergraduate degree at Daystar University, Kenya, East Africa in 2010. Throughout her undergraduate career, Dyana conducted research and attempted to understand nepotism in politically unstable communities. Upon completion of her degree, Dyana trained and became a birth coach, post-partum support person for women living in poverty. With major interest in educating women about stages of gestation, labour and safe deliveries in remote areas in the world, she is pursuing research opportunities in Africa. Dyana is a current master's student in the Masters of Applied Science field, specializing in Global Health Systems in Africa.
Dyana's research priorities are to encourage healthy births and prenatal and postnatal care for women living in poverty. Her goal is to help reduce maternal deaths and infant mortality rates in impoverished regions.