Douaa Mostafa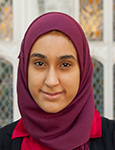 Program:
 MMASc in Global Health Systems Candidate
---
My name is Douaa Mostafa, and I am a candidate for the Masters of Applied Science Program (specializing in global health). The program focuses on studying global health approaches to health problems, focusing on the continent of Africa. The practicum component of the program provides much more realistic insights to these health problems. During my undergraduate years, I had plenty of cross-cultural experience. My previous volunteer and work experience with Cross Culture Learner Centre (CCLC) and Western's International & Exchange Student Centre (IESC) increased my cultural appreciation and helped me discover my passion in interaction with diversity of people. As a case manager assistant at CCLC, I had the pleasure to help government assisted refugees to adjust to their new community. I met with clients, offered language support, helped them find affordable housing, and learned from their experiences and stories. With Western IESC, I am conducting English conversation circles for international students to improve their speaking skills. With strong cross cultural awareness and experience, I look forward to expand and update this experience through the GHS master's program in a way that can provide health benefits to the community. To maximize benefits for the community, it is very important to engage and relate towards the residents, and it's also very important they can relate towards you. I'm hoping that my experience can support me in reaching that relationship with the community.
What are you passionate about in global health systems?
I am passionate about global health systems because it will strengthen my skills in various aspects:
1. The program's emphasis on leadership through case-based learning and teamwork will enhance my decision-making and problem solving skills. Physicians must be able to perform quick and informed decisions, either with their individual patients, or with other healthcare professionals.
2. Global health emphasizes environmental sustainability by exploring the relationship between health and environment. As a physician, it is important to acknowledge environmental determinants of health and recognize adverse health effects of unsustainable environments. This would allow me to expand my role as a physician by becoming a health promoter and an advocator. To reduce disease occurrence, physicians can educate people about preventive measures to protect their health. With proper education about environmental determinants of health, physicians can advocate environmental responsibility and sustainability.
3. The program includes learning about policy developments, using research policies to improve global health, identifying complex issues in real practice, and resolving these complex issues using an analytical approach. In today's developing world, physicians are constantly faced with ethical dilemmas that require them to carefully assess the situation then quickly perform difficult decisions. Thus, it is very essential for physicians to have knowledge in health policies and ethical principles to apply them in real life scenarios.