Yinka Olanrewaju-Olawepo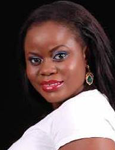 Program:
Visiting Research Only  (VRO) Graduate Scholar in the Collaborative Program in Global Health Systems in Africa, Faculty of
 Information & Media Studies at Western University
Home Institution
: Africa Regional Centre for Information Science (ARCIS), University of Ibadan, Nigeria.
Supervisor:
Professor Isola Ajiferuke
Research Project:
Assessment of the Health Information Literacy of Rural Women of Reproductive Age in Nigeria
Western Email:
yolanrew@uwo.ca
Yinka was born in Nigeria and she is currently a final year Masters of Information Science Student at the University of Ibadan, Nigeria. She also holds a Bachelor of Science (B.Sc.) degree in Computer Science & Information Technology from Igbinedion University in Nigeria.
Her research objective is to investigate and assess the level of health information literacy of women of reproductive age in five rural communities in Nigeria. With this project, Yinka's goal is to contribute significantly towards extending the frontiers of knowledge on Rural Health Information Systems in Sub-Saharan Africa and provide insights for the development of appropriate and sustainable interventions and policies for solving reproductive health challenges facing the women in neglected and disadvantaged communities in Africa.