Spencer Yan-Loong Yeung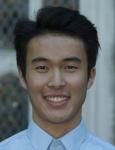 Program:
 MMASc in Global Health Systems Candidate
---
Why were you interested in beng a part of the Collaborative or MMASc in GHS-A program?
I was interested in being a part of the MMASc program because of its interdisciplinary nature and focus on more broad health topics. I was excited to move towards a degree that focused on the health of all inhabitants in this world.
What are you passionate about in global health systems?
I am passionate about the people on this planet and making sure they can live in a sustainable and prosperous way. I love working with people so I hope to enact change through relationships and making an impact in any way possible.