Lucy Reid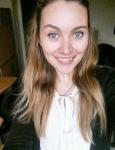 Program: Master's in Management of Applied Sciences (MMASc) in Global Health Systems in Africa

Internship Location: Nairobi, Kenya

Partner Organization: Aga Khan University Hospital

Internship Project: Working on research tool development and implementation for a project called AQCESS which aims to improve healthcare for mothers and children under five in Kenya, Mozambique, Mali, and Pakistan.
---
Lucy Reid is from Dundas, Ontario and while she loves being from a small town she also loves to travel, which drew her to the MMASc Global Health Systems program. Before this, she did her undergrad at the University of Guelph in Bio-Medical Science and loved it!  In her free time, she has always played and watched sports, especially basketball - Go Raptors!  This year she was fortunate enough to join Western Mustangs Women's Varsity basketball team, which was quite the challenge but an amazing experience. Based on her passion for science and sport, she hopes to one day to become a doctor, in orthopedic surgery or sports medicine.