J. David Spence M.D., FRCPC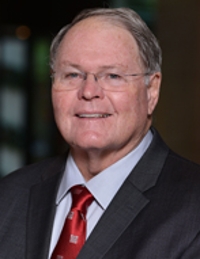 Professor of Neurology and Clinical Pharmacology, and Director, Stroke Prevention & Atherosclerosis Research Centre (SPARC)
Office:
SDRI 100
Telephone:
519-931-5731
Email:
dspence@robarts.ca

External Website:
http://www.imaging.robarts.ca/SPARC/
---
Dr. David Spence is the Director of Stroke Prevention & Atherosclerosis Research Centre (SPARC), a clinical research unit of Robarts Research Institute. The clinic studies Genetics, Medicine and Clinical Pharmacology. Dr. Spence's research is centered around atherosclerosis, the process that underlies heart attacks and a large proportion of strokes.
SPARC uses a new approach to cardiovascular prevention, "treating arteries instead of treating risk factors". In high-risk patients with carotid stenosis, this approach reduced the risk of stroke and myocardial infarction by more than 80%. Teaching in the clinic is based on principles of Clinical Pharmacology. SPARC utilizes physiologically individualized therapy for resistant hypertension based on phenotyping with plasma renin and aldosterone.
The clinic carried out a study of usual care (UC) vs. physiologically individualized therapy (PhysRx) of resistant hypertension in clinics in Nigeria, Kenya, and South Africa. In Nigeria and South Africa, PhysRx resulted in control of hypertension in 66.7 % of patients, vs. 15 % with usual care. A number of variants of genes related to salt and water retention, including two novel variants were found. Of interest, some variants were present in every patient whose DNA was sequenced, and many patients had more than one variant predisposing to salt and water retention.
This finding has important implications for treatment of hypertension in Africa. The hope at SPARC is to now extend genetic findings to larger populations in Africa, particular findings regarding blood pressure control with physiologically individualized therapy, to hypertension clinics across Africa, beginning in Nigeria.
Select Publications
---
Spence JD. Lessons From Africa: The Importance of Measuring Plasma Renin and Aldosterone in Resistant Hypertension. Can J Cardiol. 2012 May;28(3):254-7. [Epub ahead of print] PMID: 22289470.
Rayner BL, Spence JD. Hypertension in blacks: insights from Africa. JHypertens. 2016 Nov 10. [Epub ahead of print] PubMed PMID: 27841780
Jones ES, Spence JD, McIntyre AD, Nondi J, Gogo K, Akintunde A, Hackam DG, Rayner BL. High frequency of variants of candidate genes in Black Africans with low renin resistant hypertension. In Press, American Journal of Hypertension 2016.