Dr. Joanna Quinn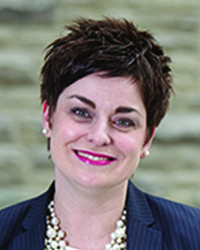 Associate Professor, Political Science and Director, Centre for Transitional Justice and Post-Conflict Reconstruction
Office:
Social Science Center (SSC) 4158
Telephone:
 519-661-2111 x 85172
Email:
jquinn2@uwo.ca
External Website
:
http://www.politicalscience.uwo.ca/people/faculty/full-time_faculty/joanna_quinn.html
---
Dr. Joanna Quinn was the Founding Director of the Africa Institute. Since 1998, Dr. Quinn has been engaged in research that considers the role of acknowledgment in overcoming the causes of conflict, which has the potential to affect real and lasting change. She has written widely on the truth commissions in Uganda, Haiti, and elsewhere, and on the role of customary practices of acknowledgment and justice in transitional justice in Uganda and in Fiji and Solomon Islands. Her current work concerns the uptake of sympathetic engagement in the acknowledgment process, and how bystanders and outsiders might be effectively engaged.
Her current research project is entitled: "What Makes People Care? Thin Sympathy and Acknowledgement by Bystanders and Outsiders to Conflict". The study builds on two successfully completed studies of acknowledgment, or the recognition of past events, in Uganda (Quinn 2010b, 2013, 2015c). Uganda, in particular, has experienced gross violations of human rights and significant inter- and intra-group violence and abuse for more than 50 years. Dr. Quinn's study seeks to understand why bystanders and outsiders do not care to understand what has taken place in survivor communities, and ultimately never engage in processes of acknowledgment and reconciliation in those communities. It further specifies the acknowledgment hypothesis (Quinn 2003a, 2010b), demonstrating the importance of "thin sympathy" or a basic understanding of the needs of the other as a necessary condition for action. The study focuses on bystanders and outsiders, two groups normally excluded from the victim/perpetrator binary, but which are crucial to the success of social rebuilding because almost every Ugandan falls into one of these outlier categories in the majority of post-Independence conflicts.
Selected Publications
---
Joanna R. Quinn, "The impact of internal conflict on customary institutions and law: the case of Uganda," (article) Journal of African Law, 58.1 (March 2015): 220-236. doi:10.1017/S0021855315000042
Joanna R. Quinn, "Tradition?! Traditional cultural institutions on Customary Practices in Uganda," (article) Africa Spectrum 49.3 (November 2014): 29-54.
Joanna R. Quinn,"Madly Off in All Directions: Civil Society and Transitional Justice in Uganda," in Transitional Justice and Civil Society in Africa, eds. Jasmina Brankovic and Hugo van der Merwe (New York: Springer, 2017), forthcoming.