Dr. Immaculate Namukasa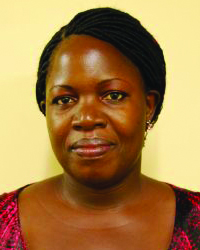 Assistant Professor in Mathematics Education, Faculty of Education

Office: Faculty of Education (FEB) 1023
Telephone: 519-661-2111 x 82271
Email: inamukas@uwo.ca
---
Dr. Namukasa is a member of the Advisory committee for the Africa Institute at Western. She is an associate professor of education at Western University in Ontario, Canada and teaching fellow with the Teaching Support Center at Western, 2017 to 2020. She is a past journal editor for the Ontario Mathematics Gazette – a magazine for teachers and educators and a current editor of the Math + code 'Zine.
Dr. Namukasa collaborates with teachers in three public school boards, in one private school system, and with researchers and teachers in Canada, China and Africa. She joined the Faculty of Education at Western from the University of Alberta, where she completed her Doctoral work in the department of Secondary Education. Prior to undertaking her Ph.D., Dr. Namukasa taught secondary school mathematics and geography in Uganda. She also participated in curriculum design, national examinations writing and marking, and instructional materials reviewing, vetting and development. Dr. Namukasa's current research interests lie in mathematics teacher education and professional development, integration of technology and computational thinking in mathematics education, mathematics learning resources and activities, and Curriculum reform in developing countries. Her past research includes: how students make sense of mathematics; the phenomenology of knowing; and the role schooling plays in globalization; problem-solving and its mathematical, experiential and pedagogical role; theoretical discussions on the use of virtual or concrete teaching materials.

Selected Publications
---
Namukasa, I. K., Kaahwa, J., Quinn, M., & Ddungu, R. (2011). Critical curriculum renewal in Africa: the character of school mathematics in Uganda. In A. Abdi (Ed.). Decolonizing philosophies of education. Rotterdam: Sense.
Majwega Kironde, Maango M. J., Namukasa I. K., & Kasirye J, (2008). MK Secondary Mathematics: Student's Book One. Kampala: MK.
Namukasa, I. K., & Buye, R. (2007). Decentralization and Education in Africa: The Case of Uganda. Canadian and International Education, 36(1), 93–116.