Dr. Gregor Reid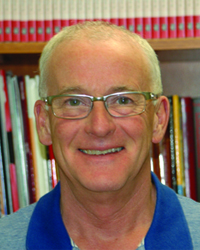 Professor, Microbiology & Immunology and Surgery

Office: Lawson Health Research Institute,
St. Joseph's Hospital, London, Ontario
Telephone: 519-646-6100 x 65256
Email: gregor@uwo.ca
---
Dr. Gregor Reid is a professor of Microbiology and Immunology and Surgery at Western University, and the Endowed Chair in Human Microbiome and Probiotics at the Lawson Health Research Institute. Dr. Reid's research interests include: Microbiome and probiotics, Women's health, Environmental influences on health, and Genitourinary systems. Having been a pioneer of probiotic research and the study of microbes in the urogenital tract of women, his research has expanded to studies of the gut, breast, heart and use of probiotics to detoxify environmental pollutants. Dr. Gregor Reid's research primarily focuses on beneficial microbes, and he is one of the world's foremost experts on probiotics, (microorganisms that produce many health benefits). To date, he has developed novel probiotic therapies used by several million people around the world. He has also held 28 patents, published over 500 peer-reviewed publications, in highly prestigious academic journals including Lancet, JAMA, PNAS, PLoS One, Nature and Nature Reviews Microbiology; he has also given >600 talks in 54 countries, and has a Google Scholar H factor of 81. 

Dr. Reid was instrumental in the establishment of Western Heads East (WHE), an experiential learning program based out of Western university. His research and development efforts are extensively translated in in Africa, including through the WHE program in Tanzania and Kenya. The program was the first to introduce probiotic yogurt in Africa, and was introduced to rural communities to help address the malnutrition and HIV/AIDS crises in the continent. The probiotic strain Lactobacillus rhamnosus GR-1 donated by Dr. Reid and Chr Hansen in Denmark, was cultured at the National Institute for Medical Research (NIMR) in Mwanza and the yogurt mamas would take some and add it to the fermentation process as their kitchens. However, the cessation of interest from NIMR led to alternative methods being required. The establishment of Yoba-for-life, a Dutch not-for-profit foundation inspired by the WHE program, led to the development of novel sachets containing the GR-1 strain in dried form plus a Streptococcus thermophilus strain with exceptional properties required to ferment milk and other foods and produce an excellent taste and textured product. This is called the Fiti sachet. Yoba-for-life also genericized the world's most documented probiotic strain GG and renamed it Yoba. This is available in an identical sachet named Yoba. Under a joint project funded by the Canadian International Food Security Research Fund through IDRC and Global Affairs Canada, the community kitchen project has expanded to reach over 120,000 people daily in Uganda, Tanzania and Kenya. The Yoba-for-life sachets have revitalized the Mwanza kitchens and expanded to many other sites in the Mbeya area through Heifer International. Fiti is also produced in Kenya, while Yoba sachets are used in Mbeya and Uganda.


Dr. Reid's goal of bringing the benefits of probiotic microbes to people around the world are certainly being achieved. This ranges from reducing urinary and vaginal infections in women and improving their quality of life, to promoting probiotics to save premature, ow-birth weight babies, and more recently to use probiotic food to reduce human exposure to environmental pollutants including mercury, arsenic and pesticides. Since chairing the United Nations - World Health Organization Expert Panel and Working Group on Probiotics in 2001-2, he has been recognized internationally for it his. He was the President of the International Scientific Association for Probiotics and Prebiotics, which is the leading organization on the science of these areas which commercially will soon reach $60 billion per annum. In 2010, he and Bob Gough received the AUCC Scotiabank Prize on behalf of Western University for the WHE program: the first time the university has been given this award for internationalization. That same year, Dr. Reid was the recipient of the Hellmuth Prize, the highest research honour conferred by The University of Western Ontario. Other awards have followed including the Distinguished Alumni Award presented by New Zealand's leading institution, Massey University, an Honorary Doctorate in Biology from Orebro University in Sweden, and appointment to the Canadian Academy of Health Sciences. Having helped acquire Canada's largest ever donation for microbiology, a $7 million donation for his chair position, his status as a global leader was recognized by his election in 2016 to the Royal Society of Canada, an honor bestowed upon Canada's distinguished scholars, artists and scientists, since the establishment of the society as Canada's National Academy in 1883.

Selected Publications
---
Reid, G., A. W. Bruce, N. Fraser, C. Heinemann, J. Owen and B. Henning. 2001. Oral probiotics can resolve urogenital infections. FEMS Immunol. Med. Microbiol. 30: 49-52. 831 citations
Reid, G., J. Jass, T. Sebulsky and J. McCormick. 2003. Potential uses of probiotics in clinical practice. Clin Microbiol Rev. 2003 Oct;16(4):658-72. 404 citations
Irvine, S. L., R. B. S.Hummelen, S. Hekmat, C. Looman, J. Changalucha, D. F. Habbema, and G. Reid. 2010. Probiotic yogurt consumption is associated with an increaseofCD4 count among people living with HIV/AIDS. J. Clin. Gastroenterol. 44(9):e201-5. 88 citations
Macklaim, J., G. B. Gloor, K. C. Anukam, S. Cribby, and G. Reid. 2011. At the crossroads of vaginal health and disease, the genome sequence of Lactobacillusiners. Proc. Nat. Acad. Sci (USA) 108 Suppl 1:4688-95. 97 citations.
Reid, G., J. Younes, H. C. van der Mei, G. B. Gloor, R. Knight, and H. J. Busscher. 2011. Microbiota Restoration: natural and supplemented recovery of human microbial communities. Nat. Rev. Microbiol. 9(1):27-38. 274 citations.
Bisanz, J. E. M. Enos, J. Mwanga, J. Changalucha, J. P. Burton, G. B. Gloor, and G. Reid. 2014. Investigating the use of probiotics and the role of the gut microbiome in toxic metal exposure in at-risk populations in Mwanza, Tanzania. mBio Oct 7;5(5).pii: e01580-14. 31 citations. Highlighted in ASM Microbe.
McMillan, A., S.Rulisa, M.Sumarah, J. M. Macklaim, J. Renaud, J. E. Bisanz, G. B. Gloor, and G. Reid. 2015. A multi-platform metabolomics approach identifies highly specific biomarkers of bacterial diversity in the vagina of pregnant and non-pregnant women. Scientific Reports Sep 21;5:14174. Patent filed
Macklaim, J. M., J. Clemente, R. Knight, G. B. Gloor, and G. Reid. 2015. Changes in vaginal microbiota following antimicrobial and probiotic therapy. Microbial Ecol. Health Dis. 26: 27799.
Urbaniak, C., G. B. Gloor, M.Brackstone ,L.Scott ,M. Tangney, and G. Reid. 2016. The microbiota of breast tissue and its association with cancer. Appl. Environ. Microbiol. 82(16):5039-48. Highlighted in ASM Microbe, Altmetricscore344 (top 5%).
Gibson, G. R., R. Hutkins, M. E. Sanders, S. Prescott, R. Reimer, S. Salminen, K. Scott, C. Stanton, K. S. Swanson, P. Cani, K. Verbeke, and G. Reid. 2017. Expert consensus document: The International Scientific Association for Probiotics and Prebiotics consensus statement on the term and scope of prebiotics. Nature Reviews Gastroenterol. Hepatol. In press.
Further Publications available here:
---
https://scholar.google.ca/citations?user=rLFrHi8AAAAJ
https://scholar.google.ca/citations?user=rLFrHi8AAAAJ
http://www-ncbi-nlm-nih-gov.proxy1.lib.uwo.ca/pubmed/?term=reid%20gregor