Dr. Eric Arts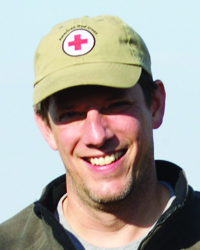 Professor and Chair Department of Microbiology & Immunology, at the Schulich School of Medicine & Dentistry. Canada Research Chair in HIV Pathogenesis and Viral Control
.
Office: 
DSB 3014
Telephone: 
519-661-3427
Email: 
earts@uwo.ca

External Website: 
http://artslab.ca/
---
Dr. Arts is an internationally renowned scholar with career accomplishments encompassing more than 130 publications and book chapters as well as several patents and licensing agreements with industry. He has provided over 100 invited lectures at university, institutes, and conferences around the world. Dr. Arts has served on numerous peer review committees and scientific advisory boards including the CIHR, NIH, the Bill and Melinda Gates Foundation, and the American Foundation for AIDS Research. His research has been supported by grants from CIHR, NSERC, NIH (NIAID, NICHD, and NHLBI), from the State of Ohio, Merck, Gilead, and
amfAR
. He has served as chair and member of the NIH and CIHR grant panel and has reviewed grants for the many governments around the world.
At the Arts Lab, they believe that curing HIV/AIDS is an achievable goal. The Arts laboratory was founded in 1997 by Dr. Eric J. Arts at Case Western Reserve University in Cleveland, Ohio and then established a satellite laboratory at the Joint Clinical Research Centre in Kampala, Uganda. In 2014, the Arts laboratory moved to Western University in London, Ontario from CWRU with strong-research team and established a new home in the Department of Microbiology and Immunology at the Schulich School of Medicine and Dentistry.
Since 1998, Dr. Arts has directed the research laboratories at the Joint Clinical Research Centre, Kampala, Uganda. A core of 5 to 8 Ugandan scientists work in the CFAR Uganda molecular virology labs at the JCRC, directed by Dr. Immaculate Nankya. This lab was established by Dr. Arts in 1998 with the primary mission to understand HIV pathogenesis and to provide advanced clinical virology assays. As a WHO Regional Lab, the CFAR Uganda labs have performed over 5000 HIV-1 drug resistance tests for patients in East Africa. The Arts lab has also collaborated with investigators in Zimbabwe, China, Cameroon, Belgium, UK, France, Brazil, and Argentina.
Selected Publications
---
Venner, C.M., I. Nankya, F. Kyeyune, K. Demers, C. Kwok, P.L. Chen, S. Rwambuya, M. Munjoma, T. Chipato, J. Byamugisha, B. Van Der Pol, P. Mugyenyi, R.A. Salata, C.S. Morrison, and E.J. Arts. 2016. Infecting HIV-1 subtype predicts disease progression in women of sub-Saharan Africa. EBioMedicine. 2016 Oct 12. pii: S2352-3964(16)30469-8.
Kyeyune, F., R. Gibson, I. Nankya, C. Venner, S. Metha, J. Akao, E. Ndashimye, C. Kityo, R. Salata, E.J. Arts, and M. Quinones-Mateu. 2016. Low-Frequency Drug Resistance in HIV-infected Ugandans on Antiretroviral Treatment is Associated with Regimen Failure. Antimicrob. Agents Chemother. 60: 23:3380-3397.
Nankya, I., F. Kyeyune., S. Metha, J. Akao, L. Bagenda, D. Tebit, F. Ssali, C. Kityo, P. Mugyenyi, E.J. Arts, and the JCRC Clinical Team. 2013. Treatment failure and drug resistance is more frequent in HIV-1 subtype D versus subtype A infected Ugandans: A ten-year retrospective analyses in Kampala, Uganda. AIDS 27:1899-1909