Dr. Andrew Walsh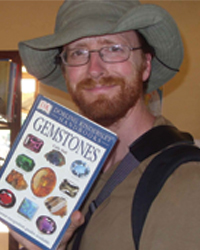 Associate Professor, Department of Anthropology
Office: SSC 3402
Telephone: 519-661-2111 x 85092
Email: awalsh33@uwo.ca
External Website: https://westernu.academia.edu/AndrewWalsh
---
Dr. Andrew Walsh's research interests are centered in Northern Madagascar. He has focused largely on documenting and situating the distinctive ways in which people in this region understand the world and their place in it through research on ritual, spirit possession and traditional political organizations, identity politics, communities of artisanal miners and plantation workers, and or, currently, small-scale conservation, development and humanitarian projects operating in the region. Dr. Walsh teaches a variety of courses in Anthropology, most of which reference to his research in Madagascar as well as other African case studies.
Dr. Walsh's research on artisanal mining, conservation and ecotourism, and, now, transnational conservation, development and humanitarian practice have all been transdisciplinary, and involve people from multiple communities and organizations within Madagascar. His current project focuses specifically on how collaborations involving foreign and Malagasy stakeholders work in the context of small-scale conservation, development and humanitarian projects. In addition to tracing the histories of these collaborations, this research has been documenting some of the problems they've been running into. The ultimate goal of this current project is to communicate the research findings in a manner that way will both address basic research questions, as well as the needs of stakeholders looking to learn how to collaborate more effectively with one another.
Students involved in Professor Walsh's courses both experience and practice the tenets of "Cross Cultural Collaboration in Practice" and "Community Engaged Learning". Dr. Walsh has developed and led a number of innovative courses, including several offerings of a 6-week field course in Environmental Anthropology in Madagascar, in collaboration with his colleague, and fellow AI member, Ian Colquhoun, and faculty at our partner institute in Madagascar. The field course in Madagascar (set to be offered for the fifth time in May/June 2017) involves Western students in collaborative research and learning projects with undergraduate students at l'Université d'Antsiranana, our partner institution in Madagascar. Through this course, students have the opportunity to work on site at the beautiful l'Université d'Antsiranana campus, engage in original research projects involving local community organizations and NGOs, and present their findings at public events. A community engaged learning
course,
taught at Western in May/June 2016, sought to flip the arrangement of the above-mentioned
fieldcourse
– involving 6 visiting Malagasy students and a group of 12 Western students in a collaborative "Community Engaged Learning" project with a community organization based here in London, Ontario.
Selected Publications:
---
Walsh, A. (2012). Made in Madagascar: Sapphires, ecotourism, and the global bazaar. University of Toronto Press.
Walsh, A. (2012). After the rush: Living with uncertainty in a Malagasy mining town. Africa: The Journal of the International African Institute, 82(2), 235-251.
Walsh, A. (2010). The commodification of fetishes: Telling the difference between natural and synthetic sapphires. American Ethnologist, 37(1), 98-114.