Voices of Diversity - About the DVD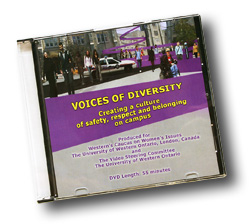 VOICES OF DIVERSITY examines discrimination, intolerance and safety issues on campus. The video captures the experiences, observations and analytical perspectives of a diverse range of graduate and undergraduate students, faculty, support staff, student services coordinators and counsellors, college and university administrators and leaders.
While VOICES OF DIVERSITY offers a window on academic and campus life, the video's compelling stories are of interest to anyone interested in creating inclusive working and learning environments.
The need to ensure safety, respect and a sense of belonging on campus are the key themes that emerge. Woven into a tapestry of experiences of hurt and hope, is an analysis of individual and systemic power and privilege, social norms and their influences, and what creates a culture that values everyone. The video also asks how we can make a difference and bring about change.
The voices in the video and facilitator's manual were gathered from over two years of research, involving hundreds of on-camera and off-camera interviews with:
• Aboriginal students, staff and faculty
• international students
• members of the GLBT community (gay men, lesbians, bisexual and transgendered people)
• people of diverse ethnic, religious and racial backgrounds
• people with disabilities or who are differently abled
• women and men
• people who reflect the intersections among these and many other identities
Designed to be flexible, the 55-minute video can be shown in its entirety or by specific topics or '"chapters"' (from 1 to 10 minutes in length). It is accompanied by a facilitator's manual that supports the use of the video in a variety of settings.
Also from this web page:
Contact Information
Associate Professor
T: 519-661-2111 (X84521)
E: bmacl@uwo.ca
---