September 12 – October 2, 2013
Opening Reception: Thursday September 12th > 5 – 7PM
The Artlab Gallery is pleased to announce that we will be starting off the fall 2013 season with the opening of our Faculty/Staff exhibition, SAMPLE.
The Exhibition provides students and members of the community with the opportunity to view recent work created by Studio Faculty and Staff. In conjunction with this exhibition, Faculty members teaching art history will present their scholarly research in the form of recent publications and published papers.  
This year's exhibit will feature a variety of art forms, including painting, photography, drawing, sculpture, printmaking, and video work.
Please join us for an opening reception on Thursday September 12th from 5-7PM. This reception has been coordinated with the closing event being held at the McIntosh Art Gallery from 7-9PM.
Studio Practitioners: Julia Beltrano, Ron Benner (Adjunct), Colin Carney, Jessica Desparois, Kelly Jazvac, Tricia Johnson, Neil Klassen, Wyn Geleynse (Adjunct), Patrick Howlett, Brad Isaacs, Patrick Mahon, David Merritt, Kim Moodie, Kim Neudorf, June Pak, Parker Branch (Anna Madelska/Jason Hallows), Andrew Silk, Geordie Shepherd, Rene Vandenbrink, Kelly Wood. 
Art Historians: Cody Barteet, Sarah Bassnett, Lorenzo Buj, Kathy Brush, Joy James, Susan Edelstein, Bridget Elliott, Sonia Halpern, Christine Sprengler.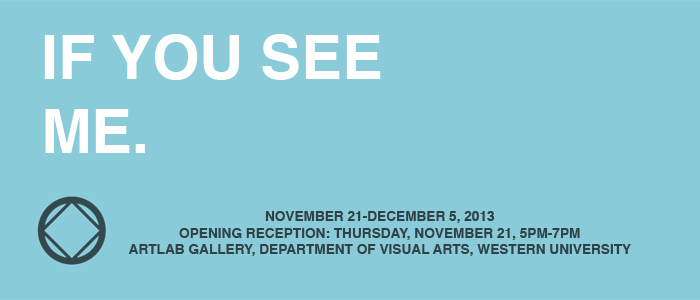 If You See Me
Advanced Fourth Year Studio Seminar Exhibition

Nov. 21 - Dec. 5, 2014

Opening Reception: November 21, 2013 > 5:00 - 7:00 PM
The Advanced Fourth Year Seminar class is pleased to present If You See Me, an exhibition featuring a mid-year culmination of new studio work. Under the instruction of Professor Kim Moodie, students are in the midst of producing a self-directed body of work, exploring and developing concepts while advancing studio practice. With distinct approaches to medium, technique, and subject matter, each student contributes an essential component to the exhibition. Works include drawing, painting, print media, and video.
With work by:
Krista Bell
Lyndsey Cattrysse
Shauna-Lynn Fink
Vivian Heliotis
Crystal Lee
Christina Luzius-Vanin
Noah Matikainen
Joanna Oszczak
Eva Przybyla
Susan Rodriguez
Gabriella Steele
Julie Yan