Featured Research
The Theory Centre is home to some of the most vital and innovative research in the Arts and Humanities, Social Science, and Information and Media studies. Its core faculty, associate faculty, and graduate students conduct research across a wide range of disciplines and topic matters, from eighteenth and nineteenth-century history of thought to post-human studies. Here we provide snap-shot views of some of the most recent projects associated with Theory and Criticism.
Dr. Joel Faflak
The Search For Happiness

What does "being happy" mean? This question preoccupies Joel Faflak in his current research. Dr. Faflak, a Professor in the Department of English, is currently writing a book-in-progress on the rise of psychiatry in the Romantic period. He describes psychiatry as emerging out of the Scottish Enlightenment "long before Freud." Psychiatry's Romantic origins represented a turn toward exploring ways to restore happiness and well-being in the melancholy and the mad. This focus on happiness remains unabated in our time, but has now become a type of ideology. "If the Enlightenment gave us the desire for happiness as a worthy goal, we are now trained to desire this desire, rather than happiness itself," Dr. Faflak says.
Another research project involves tracing human dysfunction and the search for happiness through analyzing musical theatre. "All great musicals are centred in some kind of trauma and guide the audience to the feeling that it is possible to 'get happy' again," Dr. Faflak observes. "For example, South Pacific is based in the experience of racism; My Fair Lady deals with class discrimination; Rent depicts the AIDS crisis."
The use of theorists, such as Žižek, is crucial to Dr. Faflak's research. "I think theory is as much an act as a discipline or methodology. It unsettles and reorganizes categories of thought in order to confront us with the unthought. Theory is a profound empowerment to be speculative, an act of radical imagination that cuts through and across things that may not at first seem obvious to us."
This year (2013) Dr. Faflak co-edited (with Jason Haslam) The Public Intellectual and the Culture of Hope, released by University of Toronto Press in November 2013.  Another forthcoming book, Romanticism and the Emotions (co-edited with Richard Sha) will be published by Cambridge University Press in February 2014.
---
Svitlana Matviyenko
The Drive to Network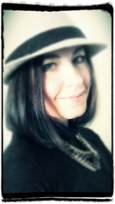 Svitlana Matviyenko, a third-year PhD student at Western's Centre for Theory and Criticism, is working on a "hot button" topic—the intersection of Jacques Lacan's psychoanalytic theory, media theory (particularly the work of Friedrich Kittler), and Marxist theory in the study of social media networks. "I am interested in the networking subject (the person) and how social media affects the sense of space. There is a phenomenon I refer to as 'the networking drive'—the feeling of the necessity to insert oneself into a network for the gaze of the Other for whom every user is engaged in an enthusiastic performance online," Svitlana explains.
"At the same time, the sense of human scale is now entirely disturbed. The idea of 'space' is stretched way beyond what we formerly thought possible. Often we can find ourselves within an unthinkable realm of a planetary catastrophe that does not allow for any personal dimension and resists any attempt to comprehend it or make it seem familiar. A social network is one of the illusions today that veil the void by beautiful interfaces—anytime, anywhere," she adds.
It's not surprising, then, that Svitlana was one of the organizers of a recent intriguing conference at Museum London, entitled "Apps and Affect." She has also co-edited a collection of essays with Paul D. Miller (aka DJ Spooky, who was present at the conference) entitled The Imaginary App, that explores the cultural and technological shifts that accompany the emergence of the mobile app. This book is forthcoming from MIT Press in July 2014.
Her own personal experience as a social media user has also contributed to her research interest. She began with the study of autobiography and memoir, self-expression in experimental prose, and structural film, but has now moved towards the study of how network subjects manage their identity.
---
Dr. Jan Plug
Creative Uncertainty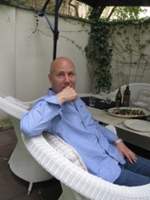 Dr. Jan Plug, Associate Professor in the Department of English and part of Western's Theory and Criticism faculty, smiles quixotically when asked about his current research. "Derrida said, 'If I knew where I was going, I wouldn't be able to take a single step.' I have much the same feeling—whenever I start new research, I never fully know where I'm going with it. I like the sense of creative uncertainty."
Dr. Plug has a strong interest in anxiety. "I think that's why I like to teach a course on anxiety at the Centre—from Kierkegaard to the present. Who hasn't felt anxiety? Most people see it as negative, but my approach to it is that whenever something unusual or troubling happens, it has the potential to open up new areas and new opportunities. If we knew where we were headed, would there be much point in going there?"
Dr. Plug finds that his work is continually enlivened by theory. "I don't think I could do the things I do and teach the things I teach if I were not part of the Theory Centre. Whatever text I am reading, perhaps every work raises theoretical questions in some sense, and for me the most provocative ones remain those that are evoked by the deconstructive tradition."
Dr. Plug also plans to teach a course in the Department of English in 2014 on Theory and Romanticism. "I began as a Romanticist, and I'm looking forward to returning to Romanticism and the theory that has emerged from it." He is currently working on a book-length study entitled They Have All Been Healed: Walser, Benjamin, Agamben, Sebald, and the Brothers Quay. A previous book, Borders of a Lip: Romanticism, History, Politics, Language was published by SUNY Press.
---
Dr. Mary Bunch
Alternate Emancipatory Approaches in Sexual Diversity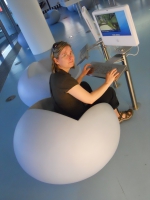 On completion of her PhD at the Centre for Theory and Criticism, Mary Bunch recently received a SSHRC post-doctoral fellowship at the University of Toronto's Centre for Sexual Diversity Studies. Her current research involves an unusual look at human rights and suggests possible innovative frameworks that can challenge entrenched views. "Gayatri Spivak wrote that, 'we cannot not want' the gains of liberal humanism, such as human rights. The syntax of 'cannot not' suggests a hidden trap that limits the desire for justice to a model that focuses on individuals within capitalism," says Dr. Bunch. "I explore the activism of queer, sex worker, and sex/ability communities, drawing upon critical theorists such as Wendy Brown, Chantal Mouffe, and Roberto Esposito to explore the question of emancipatory frameworks that might be an alternative to an overly tight framework of human rights."
Dr. Bunch proposes that approaching sexual diversity justice solely from a standpoint of rights violations is too narrow. Rights can reinforce a stance of victimization, and reflect western hegemony.   She is looking at possible approaches through the lens of community rather than individual rights, and social transformation rather than social inclusion. "What kinds of emancipatory goals and strategies are coming out of sexual minority communities? For example, in San Francisco there is an organization called "HAVOC" (the Horizontal Alliance of Vaguely Organized Queers), that applies queer theory's deconstruction of identity to national borders. They are concerned with sexuality in relation to labour and migration flows. We 'cannot not want' human rights, but we've construed human rights as a whole solution, instead of just being a part of something that's a whole lot bigger."
During 2013, Dr. Bunch has published two articles: "Posthuman Ethics and the Becoming-Animal of Emmanuel Levinas" in the journal Culture, Theory and Critique; and "The (Un)becoming Subject of Sex: Performativity, Interpellation, and the Politics of Queer Theory" in the journal Feminist Theory. She also has a new article in progress, "Communicating for the Purposes of Human Rights: Sex Work and Discursive Justice in Canada," for the Canadian Journal of Human Rights. 
---