Computer Science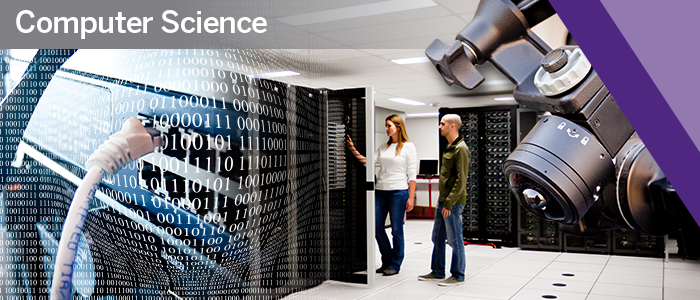 Computer science drives innovation in the 21st Century. From influencing the space program and contributing to models of personalized medicine, to solving life and business challenges through big data applications, computer science is all about exploring possibilities and influencing outcomes. The Department of Computer Science at Western is responsive to rapidly changing business, social and natural landscapes. As such, we provide students with innovative programs, courses, internships and extracurricular learning opportunities that reflect focus areas of greatest interest to students (testimonial) and their potential employers.
What You'll Learn
The work of a computer scientist falls into several categories, and students in the Department of Computer Science at Western acquire skills and experience in all. Undergraduates learn skills that allow them to design and build software as well as develop effective ways to solve computing problems, including storing information in databases, sending data over networks, and providing new solutions to cyber-security issues. Our students also acquire the expertise needed to devise new and better ways to address challenges in big data, game development, medical imaging, social and mobile computing and in bioinformatics.
Careers
Our flagship programs in Computer Science grant degrees that are accredited by the Computer Science Accreditation Council (CSAC) and the Canadian Information Processing Society (CIPS), facilitating subsequent professional certification as an Information Systems Professional and Information Technology Certified Professional.
Computer Science graduates at Western are prepared for careers in the following fields:
Database Administrator
E-Commerce Analyst
Multi-media Programmer
Programmer Analyst
Software Engineer
Technology Manager
Data Modeller
Game Developer
Network Administrator
Researcher
System Analyst
User Interface Designer
Data Scientist
Mobile Developer
Network Analyst
Sercurity Analyst
Systems Engineer
Web Developer
Distinguishing Features
In 2016, the Princeton Review named Western Computer Science among the top destinations in the world to study game design. Our Minor in Game Development examines the design and programming of games, leveraging the latest engines and technologies, and culminating in a year-long game development project modelled after industry practices. Western was one of the first universities in Canada and around the world to introduce studies in gaming.
Medical Health Informatics sits at the intersection of information and computer science, medicine and healthcare. This interdisciplinary module explores how data are collected, processed and used in a healthcare setting, while developing an applied expertise in a rapidly emerging field.
Learning in real-world contexts prepares our students for successful integration into the workforce. Future game developers benefit from courses set up as game development studios. Students take on leadership roles in simulated consultant firms and assume ownership of technical deliverables and project management responsibilities, from the determination of requirements and production of timelines to communications with the client.
You don't have to wait until the completion of your degree to get started on a career in computer science. At Western, the Propel program provides institutional support and guidance to students who are prepared to take their innovations to market through tech transfer facilitation, intellectual property protection, or business planning resulting in a start-up enterprise.
Our fourth-year thesis course gives undergraduate students the opportunity to connect one-on-one with our faculty. Thesis research topics cover all areas of computing, from augmented reality and computation linguistics, to computer vision and theoretical studies. Western receives many summer USRA awards which pairs undergraduate students with faculty supervisors for funded summer research projects. Our experiential learning courses often intersect with our research programs, providing students with hands on opportunities to work with researchers in fields ranging from data analytics to computational intelligence and beyond!