By tackling the challenges that our society faces, researchers at Western Science often publish papers highlighting new discoveries, receive awards for outstanding and novel science, and produce patents that transform discovery to application. Featured below are the most recent announcements from different research groups at Western Science regarding publications, awards, and patents. Explore the accomplishments of Western Science and be sure to come back to see the new and exciting projects that being are undertaken at Western Science.
Chemist Dr. Elizabeth Gillies awarded the Florence Bucke Prize for designing polymer prescriptions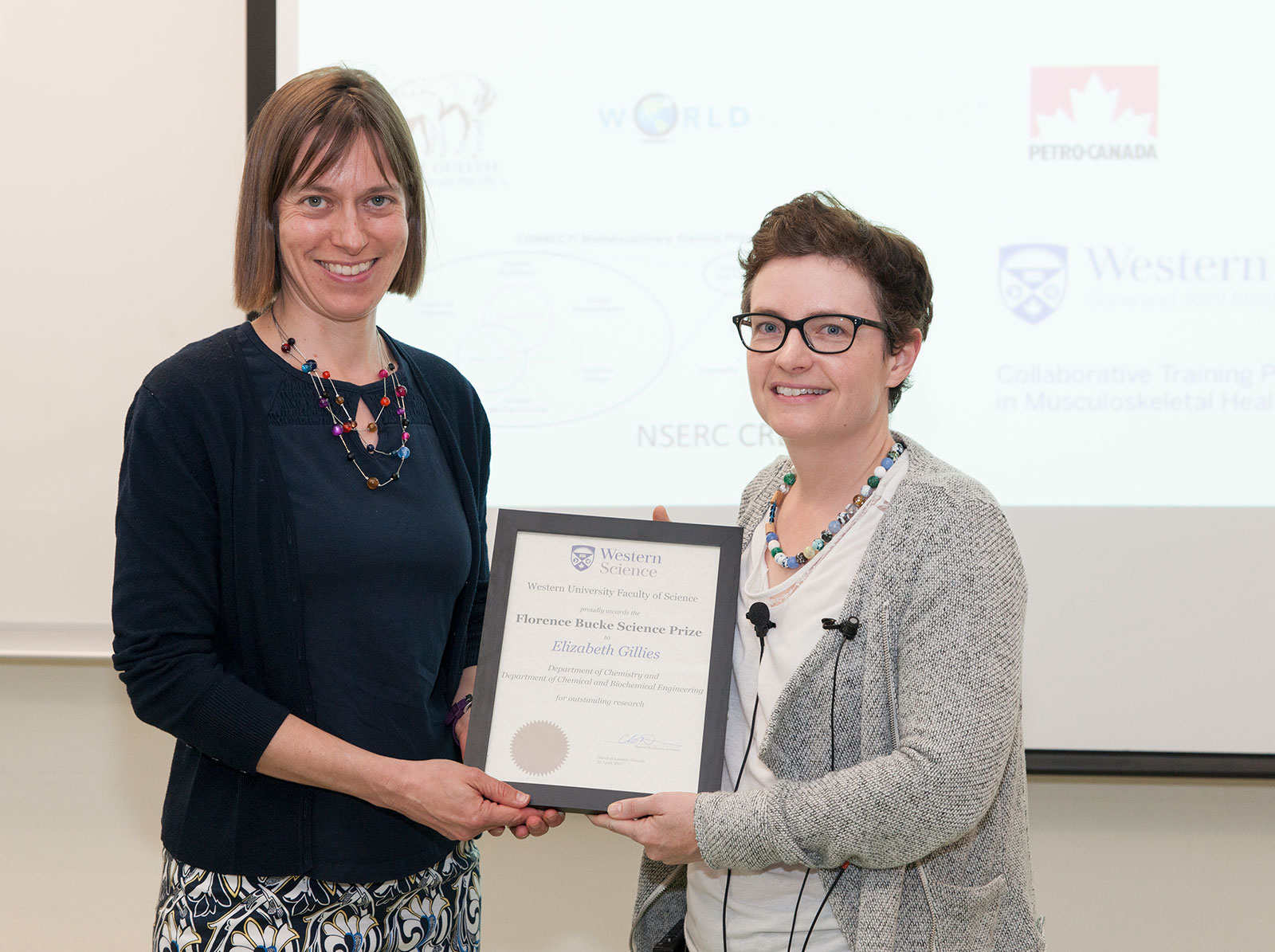 Dr. Elizabeth Gillies work in applying degradable polymers to drug delivery sysrems and temporary tissue scaffolding has earned her the Florence Bucke Prize for 2017.
More on this story
2017 Florence Bucke Science Award goes to Professor Beth Gillies
Congratulations to Dr Fereshteh Rajabi, a PhD alumna from Physics & Astronomy, who was recently awarded the 2017 Royal Astronomical Society of Canada and the Canadian Astronomical Society's J.S. Plaskett Medal for "...the most outstanding doctoral thesis in astronomy or astrophysics in the preceding two calendar years."
Supervised under the supervision of Dr. Martin Houde. Her thesis entitled "Dicke's Superradiance in Astrophysics" extends the mathematical description of this intriguing physical process to many phenomena of astrophysical interest.
More on this story
"In the end, these people helped me realize that Boundless was more than a job; it was a metaphor for life. It came down to one simple, daily decision—do I stand still or move forward?"
Dr. Simon Donato, who completed his MSc in Paleontology at Western University, has recently published The Boundless Life: 13 Lessons Learned the Hard Way. In his first book, Donato details his search for adventure in an attempt to exposure humanities' primal instincts. Join him on his journey across the globe and uncover how you can apply his survival skills to your everyday life.
More on this story
The designation recognizes their significant achievement in research and teaching. The recipients are considered all-around scholars and will hold the title of Faculty Scholar for two years and receive $7,000 each year for scholarly activities.
Congratulations to:
Rogemar Mamon, Department of Applied Mathematics
Els Peeters, Department of Physics & Astronomy
The 45th Southwestern Ontario Undergraduate Student Chemistry Conference (www.souscc45.ca) was held at York University on Saturday, March 18, 2017. There were 37 participants from our department, including 30 who presented. The conference had over 120 presentations from over 10 universities and ended with a celebratory banquet. 6 chemistry undergraduate students were recognized formally:
Troy Babcock - 1st place in the inorganic/materials section.
Samantha Anderson - 2nd place in inorganic/materials section
Daniela  Capello - 3rd place in inorganic/materials section.
Deborah Chan - 1st place in the theoretical/computational section.
Angela Murcia Rios - 2nd place in theoretical/computational section.
Nadia Sharma - 2nd place in the biological/medicinal section.
More on this story
Doctoral student Jessica Stromberg won first prize for her poster, "Fingerprinting Multi-Stage Gold Mineralization at the Dome Mine, Timmins, Ontario", at the 2017 PDAC-SEG Student Minerals Colloquium. Stromberg is supervised by Earth Science's professor Dr Neil Bannerjee and Adjunct Professor Lisa Van Loon, and her research is generously supported by Goldcorp. As the world's largest annual meeting in the mineral exploration and mining industries, PDAC is a unique opportunity for students to share their research with industry and government geoscientists in the mineral exploration industry.
More on this story
PDAC-SEG Student Minerals Colloquium
Three graduate students in the Centre for Planetary Science and Space Exploration's Collaborative Program have won prestigious career development awards from the Lunar and Planetary Institute. This award funds re cipients to help cover their expenses for attending the Lunar and Planetary Science Conference each year.  The meeting provides an invaluable opportunity for students, not only to present their own research but also to observe firsthand the latest-breaking results from other researchers in their field.
More on this story
LPI Announces the Recipients of the 2017 Career Development Award
Ding's lab received a funding grant of over $600,000 through the National Sciences and Engineering Research Council of Canada (NSERC) Strategic Partnership Grants program to develop efficient and low-cost light-emitting electrochemical cells of graphene quantum dots.
More on this story