Moshmi Bhattacharya
Associate Professor
The Bhattacharya laboratory program is focused on understanding the molecular mechanisms regulating breast cancer cell migration and invasion, processes required for metastasis.

In Canadian women, breast cancer is the most frequently diagnosed cancer, accounting for an estimated 30% of all cancer cases. The high mortality rate from breast cancer is largely due to the metastatic spread of the disease and therefore suppression of metastasis is an important issue in the treatment of the disease. However, the underlying mechanism(s) regulating metastasis are largely unknown.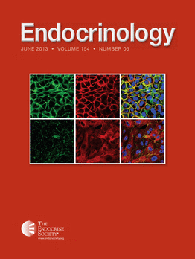 We are interested in how the signaling and trafficking of G protein-coupled receptors regulates breast cancer metastasis, using various molecular 

and biochemical techniques to study gene expression and protein-protein interactions in cancer cells. We also use fluorescent reporter molecules to study receptor-mediated intracellular signalling events in real-time, in single live cells and visualized by laser scanning confocal microscopy. The research program is comprised of the following projects:

1. Lipid signaling in breast cancer

2. Regulation of cancer cell cytoskeleton by small GTPases

3. Crosstalk between GPCRs and growth-factor receptors in cancer

Recent research has demonstrated that approaches that take into account the signaling aspects of receptor systems are essential for cancer chemotherapies. These studies will provide a better understanding of the molecular events of the metastatic process and may reveal novel molecular targets for the design of more effective therapeutics.

A video outlining some of Dr. Bhattacharya's research findings in breast cancer can be viewed on Youtube.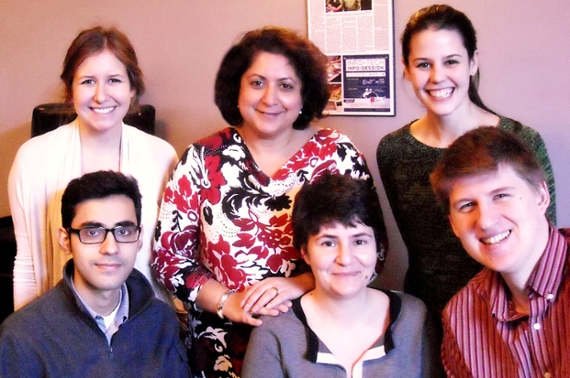 | | |
| --- | --- |
|    | Lab photo 2013 (from back L to R): Alexandra Blake, Moshmi Bhattacharya, Michelle Noonan, Siddharth Bhalla, Magdalena Dragan and Cameron Goertzen |
| | |
| --- | --- |
|   |     |
| Filopodia (green) in breast cancer cells | Cytoskeleton changes of normal mammary cells undergoing transition |
Taylor J, Pampillo M, Bhattacharya M, Babwah AV. Kisspeptin/KISS1R signaling potentiates extravillous trophoblast adhesion to type-I collagen in a PKC- and ERK1/2-dependent manner. Mol Reprod Dev. 2013 Nov 6. doi: 10.1002/mrd.22279. [Epub ahead of print]

Cvetković D, Babwah AV, Bhattacharya M. Kisspeptin/KISS1R System in Breast Cancer. J Cancer. 2013 Sep 26;4(8):653-661. Review

Cvetkovic D, Dragan M, Leith SJ, Mir ZM, Leong HS, Pampillo M, Lewis JD, Babwah AV, Bhattacharya M. KISS1R induces invasiveness of estrogen receptor-negative human mammary epithelial and breast cancer cells. Endocrinology. 2013 Jun;154(6):1999-2014. doi: 10.1210/en.2012-2164. Epub 2013 Mar 24

Alemayehu M, Dragan M, Pape C, Iram Siddiqui Sacks D, Di Guglielmo J, Bhattacharya M. Beta- Arrestin regulates LPA-induced breast cancer cell invasiveness via Rap1/IQGAP1. PLoS One, (2012) 8(2):e56174.

Alemayehu M, Dragan M, Pape C, Siddiqui I, Sacks DB, Di Guglielmo GM, Babwah AV, Bhattacharya M. β-Arrestin2 regulates lysophosphatidic acid-induced human breast tumor cell migration and invasion via Rap1 and IQGAP1.PLoS One. 2013;8(2):e56174. doi: 10.1371/journal.pone.0056174. Epub 2013 Feb 6.

Babwah AV, Pampillo M, Min L, Kaiser UB, Bhattacharya M. Single-Cell Analyses Reveal That KISS1R-Expressing Cells Undergo Sustained Kisspeptin-Induced Signaling That Is Dependent upon An Influx of Extracellular Ca2+  Endocrinology. 2012 Oct 15. [Epub ahead of print]

Zajac M, Law J, Cvetkovic D, Pampillo M, McColl L, Pape C, Postovit L, Di Gugliemo J, Babwah AV, Bhattacharya M. GPR54 transactivates EGFR to promote breast cancer cell invasiveness. PLoS One (2011) PLoS One. 2011;6(6):e21599.

Szereszewski JM, Pampillo M, Offermanns S, Bhattacharya M, Babwah AV. GPR54 regulates ERK1/2 activity and hypothalamic gene expression in a Gαq/11 and β-arrestin-dependent manner.  PLoS One. (2010) 5: e12964.

Re M, Pampillo M, Savard M, McArdle CA, Millar RP, Conn M, Gobeil F Jr, Bhattacharya M, Babwah AV. The human gonadotropin releasing hormone type I receptor is a functional intracellular GPCR expressed on the nuclear membrane. PLOS One (2010) 5: e11489.

Li T, Alemayehu M, Aziziyeh IA, Pape MC, Pampillo M, Mills GB, Babwah AV, Bhattacharya M. b-arrestins and RalGTPases regulate lysophosphatidic acid mediated breast cancer cell migration and invasion. Molecular Cancer Research  (2009) 7: 1064-77 (Cover feature)

Pampillo M, Camuso N, Taylor JE, Szereszewski JM, Ahow M, Zajac M, Millar RP, Bhattacharya M, Babwah AV. Molecular regulation of GPR54 activity by GRK-2 and β-arrestins. Molecular Endocrinology (2009) 13:2060-2074

Aziziyeh IA, Alemayehu M, Li T, Pape MC, Pampillo M, Possmayer F, Babwah AV, Bhattacharya M. Dual regulation of lysophophatidic acid receptor signaling by RalGTPases and GRK2.  Cellular Signalling. (2009) 21:1207-17 

Cavanagh PC, Dunk C, Pampillo M, Kahiri C, Han V, Lye S, Bhattacharya M, Babwah AV. GnRH-Regulated Chemokine Expression in the Human Placenta. American Journal of Physiology: Cell Physiology (2009) 297:C17-27 
The Department