Sustainability
Facilities Management works with other units and groups on campus to promote sustainable choices and awareness. Some of our sustainablity initiatives are outlined on this page, but we recommend you visit Western's Sustainability site for 'Green Tips' and ways to get involved on campus.
Outdoor Recycling Stations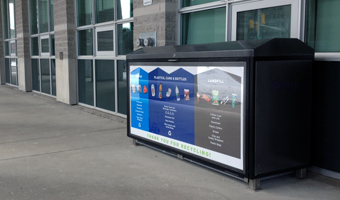 160 new outdoor recycling bins have been strategically placed around campus to promote recycling outdoors and to equipe Western with the faclities to reach zero-waste status.
Key Features:
Equipped with one bin for paper recycling, two for plastics, cans and bottles, and one for garbage waste
Colourful and descriptive labels will help users sort their waste as they approach the units
The receptacles were specifically selected based on staff input from Facilities Management, Hospitality Services, as well as Housing and Ancillary Services to meet the needs and desires of each department
---
Reduced Road Salt Use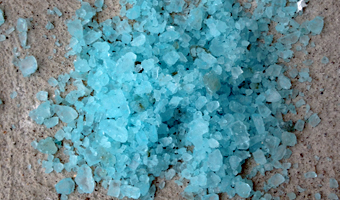 Western uses green- and blue-coloured winter salts containing potassium acetate and corrosion inhibitors. These less harmful formulas comply to Environment Canada's Salt Reduction Plan for large businesses and organizations.
Did you know:
Most road salts lose their strength at below minus six degrees which means some areas may need to be salted several times
The salt used on campus is treated with a magnesium chloride additive and works in cold temperatures down to minus 20 degrees, making a single pass often enough
The colour is a product feature to let you know where you have treated, eliminating the tendency to over-apply
---
Battery Recovery
Batteries contain heavy metals that can contaminate the environment when improperly disposed of so Facilities Management arranges to have old batteries taken off site and properly recycled.
Did you know:
Battery collection spots are located all over campus - look for the bin at indoor recycling stations
Raw Materials Company's (RMC) large decommissioning/processing plant takes Western's batteries and re-purposes their parts
Recovered zinc and manganese from batteries are granulated and used in fertilizer, the paper and plastics are separated and used for generating energy, and the metal casings are removed and crushed for recycling
---
Furniture & Equipment Recycling Program (FERP)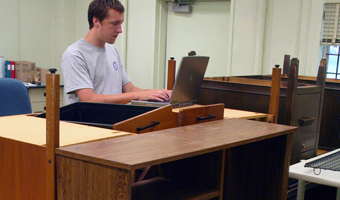 Pushing old furniture and equipment aside can create cluttered and unsafe spaces in campus buildings. FERP was created in 2010 to help remove and redistribute unwanted items around campus.
Did you know:
FERP staff removed nearly 500 items from congested hallways and temporary storage areas - more than half were claimed for reuse on and off campus and all other items were recycled
All FERP items are free for the taking and FM provides a delivery service for on-campus drop-offs
We look forward to bringing the program back in 2013 - stay tuned for more information!
How are we doing? Let us know!
[close]