Demand Management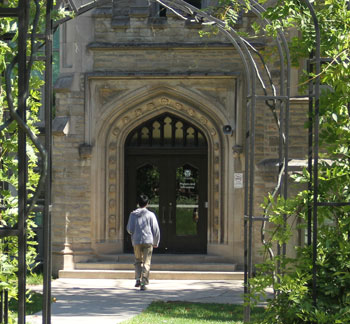 Western embarks on its sixth strategic summer conservation campaign – and is seeking support from building occupants.
Facilities Management continues to lead the initiative, cutting a portion of the University's multi-million dollar hydro bill.
In previous years, this strategic approach has mitigated roughly $1 million in utility fees and we expect our combined actions can be as successful this year.
---
| | | | | |
| --- | --- | --- | --- | --- |
| SEPT 25 | SEPT 26 | SEPT 27 | SEPT 28 | SEPT 29 |
| HIGH | HIGH | HIGH | LOW | LOW |
Demand Management Information / FAQs
Resources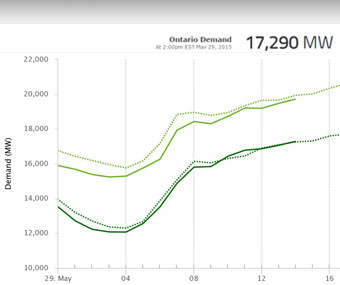 What is Demand Management?
Is a methodology used to forecast, plan and manage electrical demand. "Demand management" represents Facilities Management overall efforts and activities to protect its users and Western's infrastructure.
---
Why Demand Management?
It is important to manage how much electricity is drawn from the grid, as it affects the price of energy and the capacity of the grid to supply that power. Overloads in the electrical grid can lead to outages and damages to the infrastructure. Western is doing its part by monitoring and reducing its load when necessary to avoid problems in the province's grid.
Western also implements demand management during maintenance operations in the electrical high voltage infrastructure. In the past, this has prevented outages in parts of campus. Ensuring operations on campus can continue is a paramount objective for Facilities Management and demand management has contributed to this goal.
In addition, the electrical demands of Western during Ontario's peak demand hours determine a significant portion of the costs for the following year. Therefore, by reducing demand Western saves an average $1,000,000 per year. For more information on how our electrical costs are determined by our demand, visit http://www.ieso.ca/.
---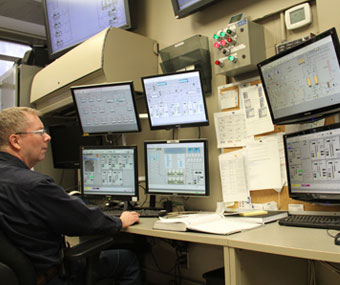 How Western takes action?
Over the years, Western has built capacity in its infrastructure to divert and reduce the flow of chilled water to the buildings. Over the last few years Facilities management installed energy valves that regulate the flow and optimize the temperature differential. The chiller plants then "follow" the load, ramping down the chilled water productions and hence, reducing the demand.
---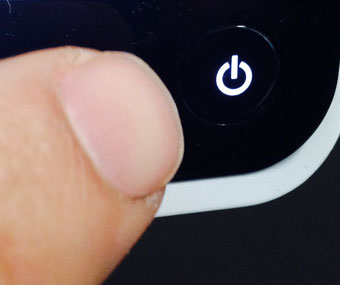 Take THE PLEDGE
Western is a signatory of the Paris Pledge since 2016, and we are striving to contribute towards the Paris Accord targets to fight climate change. As a member of the Western community, I pledge to take energy saving actions throughout the cooling season (July – October), which will help reduce carbon emissions, reduce overall energy costs and help protect our planet and its inhabitants.
In particular, I pledge to take the following actions:
Keep hydrated Visit our bottle-less water stations throughout the day
Set the thermostat between 22 and 24 degrees celcius
Be aware that your settings may also be impacting other colleagues in your office. If you are not sure if your thermostat is connected to other spaces, contact fm-energy@uwo.ca to get support
Shut down all non-essential equipment (coffee makers, printers, desk lamps, monitors, fans, etc.)
Unplug any research loads that do not need to be working during the night (if applicable)
Unplug all appliances in the kitchen (if applicable)
In days of extreme heat, keep windows, curtains and blinds closed to prevent your space warming up
Turn off all lights when leaving a room
Join your colleagues and TAKE THE PLEDGE to help Western fight Climate Change
Please TAKE THE PLEDGE via a retweet or online before July 21 for a chance to win one of several Western branded water bottles, travel mugs, and lunch bags through a random draw.

Downloadable poster can be printed and posted in your common area(s) to help remind colleagues of the conservation campaign; AMPing Down poster
---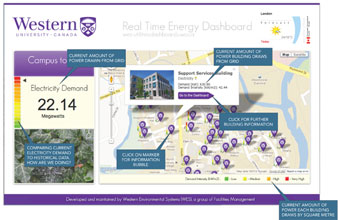 Realtime Energy Dash board
The campus community can monitor the energy use of any building across campus – using Western's Real Time Energy Dashboard.
By logging on to the dashboard site, users can view campuswide energy demand at that time, as well as a building-by-building breakdown showcasing energy use across most of the university's facilities. Clicking on an icon gives users an up-close look at that particular building's electricity use. The data is sortable in a number of ways, including tracking data for the day, week, month and year as well as various comparison options.
The system is the first step in what developers see as a response to demands from a number of different stakeholders including, most importantly, from the users on campus.
View the Realtime Energy Dashboard
---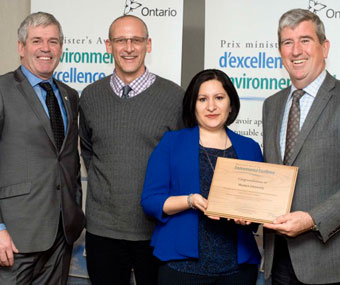 Recognition and accolades
With your help, Western will continue to be recognized as a leader in electrical demand management. The following are a few recent accolades of which we are particularly proud:
Western was honoured by the Canadian Association of University Business Officers (CAUBO) with the 2013 Quality & Productivity Award-Ontario Regional Prize for our energy-reduction plan. Read more.
In 2015, Western received the Environmental Award of Excellence from the Minister of Environment and Climate Change, Hon. Glen Murray for the development of the interactive Energy Dashboard. Read more.
More recently, Energy Minister, Hon. Bob Chiarelli visited Western to learn more about building automation and our advanced demand management measures. Read more.
---
Facilities Management's Twitter Feed
Follow Facilities Management on twitter (@westernufm) for frequent updates, Peak Day predictions, and other Demand Management related information - hashtag #westernuDM
`
Feedback