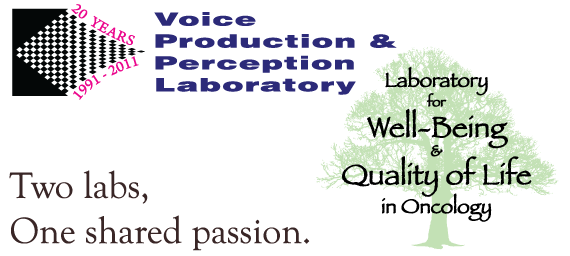 The Two Labs bring together 20 years of research in the area of voice and speech sciences with an explicit focus on human functioning, and the impact of cancer and its treatment on individuals' health, well-being, and quality of life. Our interdisciplinary research team is composed of undergraduate and graduate students together with distinguished faculty, physicians, and surgical residents, and our programme of research explores a range of facets that comprise the human condition.
---

We're on Twitter! Follow us @TwoLabs_UWO.
---
The Two Labs will be in Atlanta – Come find us at ASHA 2012
We are headed to Atlanta to present the following poster on Thursday, November 15:
Cox, Day, Bornbaum, & Doyle – The Impact of the Electrolarynx on Voice-Related Quality of Life [Session Code 7284, Poster Board 483; 3:00 - 4:30 pm, GWCC/Hall A2]
Contact us for a copy of presentation materials.

See you in sunny Atlanta!
Additional Links
Also from this web page:
Contact us
Elborn College
Room 2200
Univ. of Western Ontario
London, Ontario, Canada
N6G 1H1
T: 519.661.2111 x 80583
F: 519.850.2369
Email
Follow us on Twitter: @TwoLabs_UWO
Search Western with Google
Also of interest: