Advanced Health Care Practice Program (MClSc)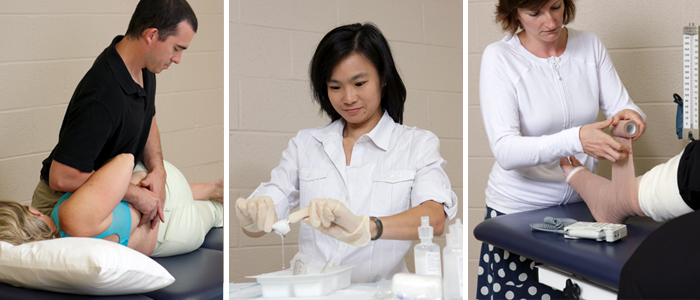 The first program of its kind in Canada, the Advanced Health Care Practice (MClSc) program is a one-year (three terms) course-based master's program offering an opportunity for experienced health-care professionals to obtain advanced training in a clinical specialty. It is delivered using a combination of online courses and three on-site, one- to three-week residency periods during which clinical skills lectures and labs are provided. 
Students are encouraged to work clinically (part-time) during the program in order to incorporate new knowledge and skills into their clinical practice, but can expect to devote 20 to 30 hours/week to program related activities (e.g., studying, reading, assignments etc).
The Advanced Health Care Practice program offers two fields of study:
MT MClSc

Prepares physiotherapists to be advanced clinicians in the assessment and treatment of neuromuscular dysfunction and provide effective management of complex clinical conditions

Students participate in three mandatory residency periods at Western in September (3.5 weeks), February (3 weeks) and July (2 weeks)

Through clinical reasoning, evidence-based practice, and experienced orthopaedic practice, the physiotherapist will be able to use the skill of manipulation safely, effectively and appropriately in their own clinical practice

Successful graduates are eligible to apply as a fellow in the Canadian Academy of Manipulative Physiotherapy (CAMPT)

Graduates obtain the research and professionalism competencies necessary for CPA specialization
Advanced Standing (FCAMPT)

Designed for registered fellows of the Canadian Academy of Manipulative Physiotherapy (CAMPT) possessing an Advanced Diploma in Manual and Manipulative Therapy and wanting to expand their professional and research interests.

Students participate in two required residency periods at Western (September - 3 days, July - 2 days)

Students in the Advanced Standing stream take fewer courses than those in the full program
Designed to provide an educational experience at the graduate level that will focus on the development of specialized clinical skills and research methods needed to assess and treat people with acute and chronic wounds

Students participate in three mandatory residency periods at Western in September (2.5 weeks), January (2.5 weeks) and July (1 week)

This is an interprofesional field of study that is open to a variety of health care professionals with relevant clinincal experience (e.g., PT, OT, MD, Nursing)