Nicholas Joachimides, MClSc '11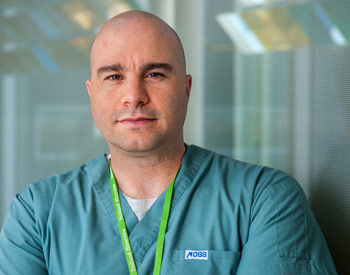 Healing is a team effort

by Katherine Low
When Nicholas Joachimides enrolled in Western University's Master of Clinical Science in Wound Healing Program, he had no idea what to expect.
"I had taken a few wound-care courses, but I really wanted to take my wound-healing knowledge and skills to the next level," says Joachimides, the first paediatric nurse to graduate with a master's degree in the program.
A Registered Nurse (RN) at Holland Bloorview Kids Rehabilitation Hospital, he puts those skills to good use.
"There is a gap in literature and attention to children with wound-healing needs, which makes it difficult to ensure that best practices are applied in the way we're accustomed to in the adult health-care sector," he says. "The Wound Healing program gave me the tools to explore deeper into wound-healing research and literature and [it] empowered me to ensure that I'm providing the best possible wound-healing principles to the children I'm taking care of."
Joachimides also applies these skills as an RN at the Toronto East Detention Centre – there, he faces the unique challenge of providing first-rate patient care while also evaluating potential security risks.
"Everything you have is a potential weapon," he says of his efforts to balance patient care with patient safety.
Because everyday medical items can be used to harm the patient or others, Joachimides must consult with corrections officers when determining how to best dress a wound – for example, if it is better to use fewer materials and change dressings more frequently.
"Wound healing is not done in silos; it takes an entire inter-professional team to heal wounds," he says.
Joachimides credits his time at Western for helping him understand the impact on the person, not just healing the wound. "What impressed me the most is that while we were focused on wound healing, at the heart of the course was the individual."
The unique program, part of the School of Physical Therapy, is one of few of its kind in North America. It is a one-year program that focuses on developing clinical skills, as opposed to other programs that are research-based.
"However, there is a group research experience and a Quantitative Research Methods course included as part of the program," says program administrator Cheryl Harding.
Students are onsite three times through the year of study for a total of five weeks, and when they are onsite it is seven days a week for eight to 10 hours per day.
Program chair Pamela Houghton cites Nick as a good example of why the program is so successful.
"The program has a good reputation amongst his colleagues; it provides a master's degree and credentials for the field of wound care (not available anywhere else in the world); and it allows him to stay in his work setting while attending the program," she says. "He can obtain support from his employer since he can apply new-found knowledge immediately in his everyday clinical practice."
"What made the course so special was the passion the professors brought each and every day to the residential periods, and the support while we were away implementing our knowledge in our workplaces," says Joachimides. "Once the course was completed, I was not left with a sense that, 'Now I knew everything about wound healing.' I left thinking, 'Now I need to keep asking important questions, dig deeper into clinical situations, and continue to further my knowledge.' Since graduating the program, I've had the pleasure of working with children and families to ensure that their wounds
are healing, using best practices."