Jan Polgar, PhD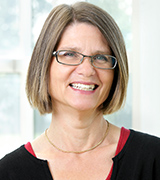 Professor
School of Occupational Therapy 
Room 2549, Elborn College
519 661-2111 x88966
jpolgar@uwo.ca
Education
PhD (Toronto)
MAOT (Southern California)
BScOT (Toronto)
Supervising Graduate Students
Research Interests
Aspects of mobility; including product design, use and functional outcome
Assistive technology
The consumer's ability to use technology
Safe transportation for seniors
Additional Information
Mortenson W, Miller WC & Miller Polgar J. (2014). Measurement properties of the Late Life Disability Index among individuals who use power wheelchairs as their primary means of mobility. Archives of Physical Medicine and Rehabilitation, 95, 1918-24. DOI:10.1016/j/apmr.2014.05.020.
Kirby RL, Miller WC, Routhier F, Demers L, Mihailidis A, Polgar JM... & Sawatzky B. (2015). Effectiveness of a wheelchair skills training program for powered wheelchair users: a randomized controlled trial. Archives of physical medicine and rehabilitation, 96(11), 2017-2026.
McKenna A, Kloseck M, Crilly RG & Polgar J. (2015). Purchasing and using personal emergency response systems (PERS): how decisions are made by community dwelling elderly. BMC Geriatrics, 15, 81. DOI 10.1186/212877-015-0079-z.
Cook AM & Polgar JM. (2015). Assistive Technologies: Principles and Practice (4th edition). St. Louis: Elsevier.
Polgar JM. (2015). Environmental factors: Technology, In C. Christiansen, C. Baum, & J. Bass (Eds.). Occupational Therapy: Performance, participation and well-being, 4th ed. Slack Incorporated.
Assistive Technology
Occupational Therapy Assessment
American Occupational Therapy Foundation - Board Member
Council of Ontario Universities Quality Council Appraisal Committee
Professional Accreditation Member - Canadian Association of Occupational Therapists