School of OT going global
The School of Occupational Therapy (OT) has 20 years of established global education connections in occupational therapy field placements. For example, in the past two years, under the leadership of Prof. Ann Bossers and the fieldwork team, OT students have participated in placements in India, Scotland, England, Singapore, and Barbados. Other international efforts are next discussed:
Norway
Since 2011 we have expanded global innovations in graduate student exchange in occupational therapy, occupational science, and international public health between Western and two Universities in Norway (Norwegian University of Life Sciences and the Faculty of Health Sciences, Oslo Askerhus University of College of Applied Sciences). Global and Local Issues in Occupation is a three week intensive graduate course in Occupational Science, offered to master's or PhD students in international public health, occupational science, health and rehabilitation science, and occupational therapy.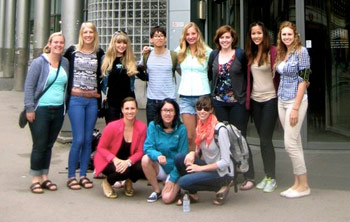 We are also partnering with Norway to expand opportunities for graduate student research projects, faculty exchange, and development of an international curriculum with a focus on mobility in the high north. In 2012, faculty members Drs. Trish Tucker and Debbie Laliberte Rudman were involved in sharing their research through seminars and lectures in the Public Health Sciences program at the Norwegian University of Life Sciences and the Faculty of Health Sciences, Oslo Askerhus University of College of Applied Sciences. This year, in February, Drs. Laliberte Rudman and Shaw will be conducting seminars and participating in research development discussions at these universities
New Zealand
With funding support from the National Institute for Public Health and Mental Health Research, Faculty of Health and Environmental Sciences, Auckland University of Technology (AUT) and the International Research Award, Western University, a cross-national comparative pilot study of immigrant settlement in London, Ontario and Auckland, New Zealand was initiated by Drs. Suzanne Huot and Laliberte Rudman. This collaboration further included Drs. Shoba Nayar and Clare Hocking at AUT. Further funding was recently secured to extend this work to include Dr. Antoine Baillaird, University of North Carolina, Chapel Hill, and conduct foundational work for a larger cross-national study.
United States of America
Dr. Sherrilene Classen is continuing to co-lead an intervention trial entitled:  Efficacy of an Occupational Therapy Driving Intervention for Returning Combat Veterans, in collaboration with Dr. Sandra Winter at the University of Florida.  This trial, the first of its kind, will provide empirical evidence for using an occupational therapy intervention to discern if driving outcomes in veterans with mild traumatic brain injury, post traumatic stress disorder, and orthopedic conditions improve.
With funding from the Beaumont Faculty Development Fund, Dr. Debbie Laliberte Rudman has collaborated with Dr. Rebecca Aldrich at the University of St. Louis and with community organizations in London, ON and St. Louis, Missouri, to conduct pilot work on the socio-political reconfiguration and individual negotiation of long-term unemployment. This pilot work has been used as the basis for a SSHRC Insight Grant proposal that extends this international project to a larger project which also includes Drs. Suzanne Huot and Lilian Magalhaes at Western, Dr. Jennings at St.Louis University, and John Griffiths from Goodwill Industries in London, ON.
South Africa
Since 2010, Dr. Sherrilene Classen has a formal appointment at the University of Stellenbosh (US) in Cape Town, South Africa. In November 2013, and with funding from the US, Dr. Classen has conducted workshops, seminars, roundtable discussions, and journal clubs to educate clinicians and researchers interested in using a driving simulator for assessing the driving performance of clients. Under the direction of Dr. Classen and in close collaboration with Dr. Lana van Niekerk, Chair of the Division of Occupational Therapy at the University of Stellenbosch, they secured funding to purchase an i-Des vSIM C200 SP driving simulator. Occupational therapists will use the simulator to assess the fitness to drive abilities of their clients, in collaboration with researchers, who will provide empirical evidence for the validity and reliability of the driving simulator.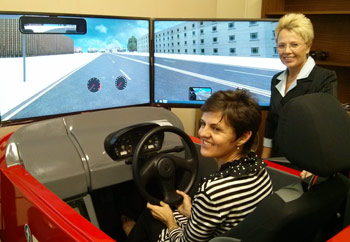 Brazil
In 2011, with the FAPESP/Brazil – UWO, a collaboration was formed between Dr. Sandra Maria Galheigo, University of Sao Paulo and Drs. Elizabeth Kinsella (PI) and Magalhaes from Western. Their project is entitled: Community of practice: A methodology to improve occupational therapy practice? To date there were visits to Brazilian and Canadian sites and research partnership is ongoing.
As a result of collaboration with the Federal University of Sao Carlos, furthered through Dr. Malfitano's post-doctoral fellowship at Western during 2013,  Dr. Magalhaes was able to secure funding from the Brazilian National Council  for a study entitled: Social issues and occupational therapy: Mapping the discussion and building international dialogues. Other faculty contributions in Brazil included: Dr. Malgalhaes offering an occupational science workshop in 2012; Drs. Galheigo and Malfitano participating in a symposium at Western, along with Dr. Liz Townsend, on Social Perspectives in Occupational Therapy, in 2013; and Dr Kinsella presenting a key note address in 2012 at the University of Sao Paulo entitled: Phronesis as Professional Knowledge: Practical Wisdom in Occupational Therapy.
These global connections and collaborations are contributing to Western's capacity to deliver education that inspires occupational therapy and occupational science students around the world to become competent global citizens. International research is expanding our potential to contribute to important social change and improve occupational therapy around the world.