Ruth Martin named to Canadian Academy of Health Sciences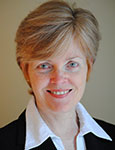 Congratulations to Ruth Martin, PhD, Professor in the School of Communication Sciences and Disorders and the Faculty of Health Sciences' Associate Dean for Graduate and Postdoctoral Studies, on her induction as a fellow of the Canadian Academy of Health Sciences (CAHS). The academy recognizes those who have a history of outstanding performance in the academic health sciences in Canada.
Professor Martin's research explores the neural control of swallowing impairment and how those impairments can be treated. It has led to the development of a swallowing aid, called Swallowing Air Pulse Therapy (SWAPT), which consists of a small control unit attached to a lightweight, disposable mouth piece that delivers oscillating air pulses to the back of the mouth and induces a swallowing response. The technology was licensed to Trudell Medical in 2009 and she has worked closely with Trudell's product development team to develop a portable version of the device that can be used in both a hospital setting and at home.
A dinner honouring the 2014 inductees was held in Ottawa on September 18.
About the Canadian Academy of Health Sciences
The objective of the Canadian Academy of Health Sciences is to provide assessments of and advice on key issues relevant to the health of Canadians. In order to achieve this role it will:
Serve as a credible, expert and independent assessor of science and technology (S&T) issues relevant to the health of Canadians;
Support the development of timely, informed and strategic advice on urgent health issues;
Support the development of sound and informed public policy related to these issues;
Enhance understanding of S&T issues affecting the public good by transmitting the results of assessments and providing opportunities for public discussion of these matters;
Provide a collective authoritative multi-disciplinary voice of health sciences communities;
Represent Canadian health sciences internationally and liaise with like international academies to enhance understanding and potential collaborations on matters of mutual interest.
For more information, visit: www.cahs-acss.ca