HRS student and alumni team up in case competition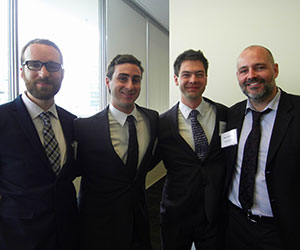 A graduate student in Western's Health and Rehabilitation Sciences (HRS) program teamed up with three Western alumni to compete recently at the University of Toronto's Academy Health inaugural case competition.
The case presented to the competing teams involved making a recommendation to an US based Electronic Medical Record provider as to whether or not they should pursue a contract with the Ontario Ministry of Health and Long-term Care (MOHLTC) as the province's Health Links program is implemented.
PhD student Eric Sadowski, along with alumni Jay Shaw (HRS), Ryan DeForge (HRS) and Jeremy Cepak (Biomedical Engineering), were successful in convincing the judges that their recommendation was the best. Six teams entered the competition, hailing from a variety of backgrounds at U of T and Ryerson, including medicine, health policy, public health, and business administration.
Calling themselves The Bricoleurs, which is a French word that connotes innovative and diverse craftsmanship, the team from Western leveraged their research and presentation skills along with their familiarity with Ontario's health care system to win this prestigious competition.