A Leader with a Plan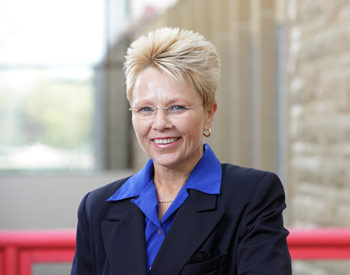 School of Occupational Therapy welcomes new director
by Todd Devlin
When Sherrilene Classen, incoming Director of Western's School of Occupational Therapy, made the trip from Gainesville, Florida to London last winter, it was the first time she had set foot on Western's campus. But you wouldn't have known it.
Professor Classen had done her homework. She had a strong understanding of the mission and vision of the school, as well as the core values of the university. That quickly became apparent during the interview process, as she laid out her own five-year vision.
"She knew this place from top to bottom," said Faculty of Health Sciences Dean Jim Weese. "She knows our people, she knows the university, and she's looking forward to joining our leadership team. People like her have options, so we're very pleased to attract her as the next leader of our School of Occupational Therapy."
Classen, who comes to Western from the University of Florida, where she was the Director of the Institute for Mobility, Activity and Participation, says she's thrilled to begin her new role.
"I see this position as an excellent opportunity for me to apply my skills in a setting that is very consistent with my short-term, intermediate and long-term goals," she said. "The position requires somebody with leadership skills and research skills, and with the ability to lead a department in an innovative way. I feel it's just the perfect fit."
During the hiring process, Classen says she became quite impressed with the foundation of the program – as shaped by past directors Angie Mandich and Thelma Sumsion.
"The school has been built on the shoulders of giants," she said. "There is a lot of strength in the program, so it's really exciting to think about taking a strong program and helping to excel it in other areas.
Those areas – innovation, globalization and excellence in scholarship – are the ones Classen outlined in her five-year vision.
"I see my role as helping the School to pursue exciting research opportunities, and to extend what we're doing to more of a global arena," she
said. "And of course, also promoting excellence in teaching and ensuring that we continue to provide the best experience for students."
Classen has honed her skills over the last 11 years at the University of Florida, where she was federally funded since 2002 and focused on combining public health and rehabilitation science to research driver safety and community mobility. Notably, she was the lead developer of a free, online tool that helps identify older drivers who may be at risk on the road.
At Western, she says she's looking forward to working collaboratively across multiple disciplines, both within the Faculty of Health Sciences and beyond. Her term as Director of the School of Occupational Therapy begins on August 1, and Weese says he's excited to welcome her to the faculty.
"We're really delighted to have her," he said. "She's an accomplished scholar, a brilliant researcher and a transformational leader, and she has an engaging personality that will resonate with her colleagues, the students and the alumni. She's going to be a great addition to a formidable faculty."