Child Health Symposium
Optimizing Child Health: Address Stress for Success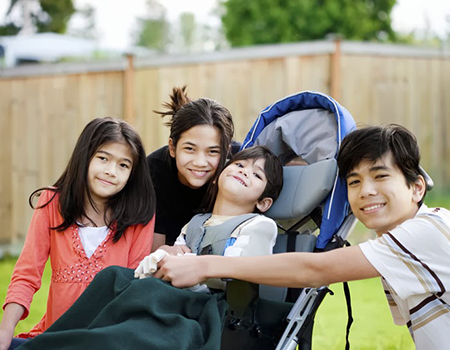 The Child Health Symposium is a collaborative presentation of Western University's Faculty of Health Sciences and the Thames Valley Children's Centre. It provides an opportunity for families, service leaders, researchers, educators and students from all disciplines to:
Share their knowledge, ideas and best practices for service delivery
Present current research interests, questions and findings
Learn more about the child health research happening in our community
Network and build relationships and collaborations with others (e.g., youth, families, students, service providers, educations, researchers) in our community in the area of child health
Event Details
When:
Friday, May 26, 2017
8:45 am to 3:45 pm
Check-in begins at 8:00 am
Where:
Arthur and Sonia Labatt Health Sciences Building
Western University
Huron Drive
What:
Keynote address, clinical and research presentations, service provider panel
Fees: The Child Health Symposium is FREE. Limited spaces are available. Please register by May 19. A catered lunch is provided.
J. Bruce Morton, PhD
Professor, Department of Psychology, Western University
Associate Scientist, Children's Health Research Institute

Dr. J Bruce Morton is an Associate Scientist at Children's Health Research Institute. He has served as a Professor in Department of Psychology at the University of Western Ontario since 2002, is a Principal Investigator at Western's Brain and Mind Institute, and a core faculty member of Western's Graduate Neuroscience Program. Dr. Morton's interests concern the development of self-regulation behavior in children.
The Impact of Early Life Stress on Long-Term Health
Many children in the world today endure highly stressful experiences such as exposure to family violence, natural catastrophes, war and famine, and/or abuse. There is a growing understanding that stressful early life experiences of this kind can have a lasting negative impact on the physical and psychological health of the affected individual. My talk will provide an overview of what we know about the long-term health implications of early life stress and discuss why it is that stress early in development can have a lasting impact the physical and psychological make-up of the individual. I will conclude with some ideas about how we might buffer children against the potentially "toxic" impact of early life stress.
Parking will be available in the South Valley Lot. Please refer to Western's
Parking Services
website for lot location and details.
8:00 a.m. – Registration Opens/Networking
8:45 a.m. – Official Start and Welcome
9:15 a.m. – Service Provider Panel Presentations
10:00 a.m. – Break and Networking Opportunity
10:20 a.m. – Session 1: Presentation Clusters
11:20 a.m. – Poster Teaser Session
11:55 a.m. – Lunch, Networking Opportunity and Poster Session
1:25 p.m. – Session 2: Presentation Clusters
2:25 p.m. – Keynote Speaker
3:35 p.m. – Last Session, Final Thoughts for the Day, Door Prize
For more information about this event, contact:
Faculty of Health Sciences
Nicole Chabot
Research Coordinator
nchabot@uwo.ca
519-661-2111 ext. 84736
Thames Valley Children's Centre
Carrie Connell (event inquiries)
Education and Program Coordinator
carrie.connell@tvcc.on.ca
519-685-8700 x53367