Current News & Events
Please note that all academic job postings are now posted only on the Human Resources website and all applications must be submitted online here. 
---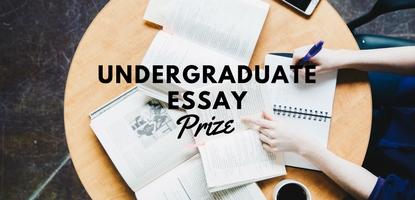 April 26, 2018 | Undergraduate Scholarships & Awards
Gillian Nangreave awarded 2018 Undergraduate Essay Prize!
In her paper, "Polyphony, Structure, and Social Order in 'The Miller's Tale'," Gillian looks at Geoffrey Chaucer's Miller both as a character and a narrator to argue that he occupies a liminal space within the social hierarchy of late fourteenth century England, and that he tells a tale which seeks to expand that social middle ground, thus obscuring the rigid social divisions established by The Knight's Tale. The prize adjudication committee noted the depth of the research in the paper and the persuasiveness of Gillian's argument, particularly as it draws together several threads of current scholarship. Gillian will be returning to Western in the Fall, as she has already been accepted to Western's Master's program in English literature. Congratulations to Gillian, and to all of those who submitted their excellent work for consideration.
---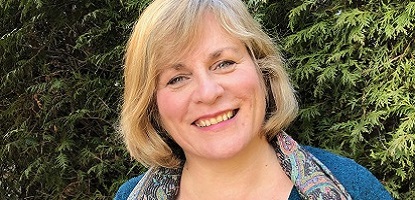 April 23, 2018 | Department of English & Writing Studies
Professor Manina Jones appointed Chair of the Department, effective July 1, 2018
Manina comes to the position as an established scholar, an innovative teacher, and an effective and collegial administrator. Manina is author of The Art of Difference: "Documentary-Collage" and English Canadian Literature, co-author (with Priscilla L. Walton) of Detective Agency: Women Re-Writing the Hard-Boiled Tradition, and co-editor (with Marta Dvorak) of Carol Shields and the Extra-Ordinary, and has also published numerous articles in the fields of Canadian literature and detective fiction. She has also taught extensively in both areas, introducing a popular general interest course that works across genres and media of detective fiction, similarly pioneering community-based learning with an undergraduate course on Canadian Literature: Creativity and the Local, and supervising countless graduate students to successful completion of their degrees. As an administrator, Manina greatly expanded the role of Vice-Chair of the Department: in collaboration with the University Students' Council, she introduced the Student Writer-in-Residence position, unique among Canadian universities, and generally not only fostered a sense of community within the department but helped it look outward to its place in the university and beyond. For the past two years, she has been President of the largest organization of college and university teachers of English in Canada, ACCUTE. The Department is fortunate to have Manina serve as its next Chair. Welcome, congratulations, and thank you, Manina!
---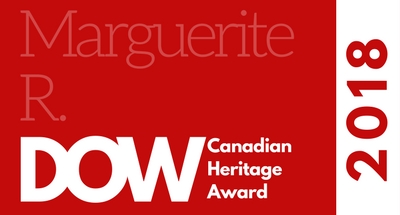 April 10, 2018 | Undergraduate Scholarships & Awards
Emma Croll-Baehre and Trevor Zaple tied for first place for the 2018 Marguerite R. Dow Canadian Heritage Award!
Adjudicators Professors Madeline Bassnett and Joshua Schuster noted that Emma Croll-Baehre's untitled poem pulsates with language snapped up from disparate places including social media life and landscapes of Canadiana. The poem is "gull-mouthed" and dappled with "maple cheeks" but winks back "caught-ya / in double / speak." Croll-Baehre's crisp voice and fresh poetics sparkle here in an unforgettable poem. Her work insists on a restlessness of both place and displacement in words, desires, and Canadian feeling.

They also noted that Trevor Zaple's "Sodom Road" is an unnerving ghost story that takes us into the underbelly of rural south-western Ontario. When the coffee-slinging Jered gets a letter from his uncle giving Jered ownership of his property, he leaps at the chance to escape his dead-end life in Toronto. But what Jered finds is a derelict pair of houses that lead him, not to the back-to-the-land idyll he hopes for, but to the sordid history of a once populous mill-town. Zaple skillfully juxtaposes the clash between Jered's urban and romantic expectations and the rural decay and isolation he encounters. Equally skillfully, Zaple's story erodes the line between past and present, placing us in a world where the two collide and nothing is quite what it seems. Giving us a very Canadian look at the rural/urban divide, "Sodom Road" is neither comforting nor tidy in its defamiliarization of our own SoWesto region.
---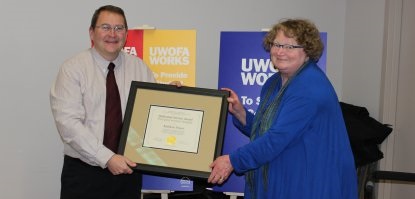 March 22, 2018 | The University of Western Ontario Faculty Association
Kathleen Fraser awarded the CAUT Dedicated Service Award
In recognition of the valuable and important service to UWOFA, Kathleen was awarded the CAUT Dedicated Service Award which honors outstanding service to academic staff associations at the local or provincial level.
---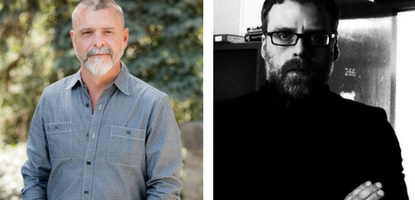 March 15, 2018 | Teaching & Research Excellence
Professors Joel Faflak and Jonathan Boulter awarded Western's highest honours for teaching and scholarly achievements
Joel Faflak has been awarded the Edward G. Pleva Award for Excellence in Teaching. The Pleva is Western's highest award for teaching, and Joel joins a long list of distinguished teachers from our department to have won the award.
Jonathan Boulter has been awarded the Graham and Gale Wright Distinguished Scholar Award. The award recognizes Jonathan's many scholarly contributions in the fields of 20th-century literature, theory, and cultural studies.
---
March 12, 2018 | Undergraduate Scholarships & Awards
Camille Intson, winner of the 2018 Lillian Kroll Prize in Creative Writing for her one-act play Marty and Joel and the Edge of Chaos
Adjudicated by Professors Michael Fox and Jamie Johnston, Camille's one-act play, which will be premiering at Alumnae Theatre on March 21, is preoccupied with exploring relationships between past and present, stasis and progression, time and perception, memory and identity. The play tells the story of two people, the photographer Joel and his subject Marty, who share an evening photoshoot in 1989 and then meet again at Joel's wedding reception in 2017. While Joel considers his photographs "slivers of the past," Marty wonders about the troubling nature of time and the possibilities of its capture. Camille hints darkly that something isn't quite right that first night, and as the evening cuts to and then blends in with 2017, what's happened to the pair in the intervening years is partially revealed. Sparse, often fragmentary lines of dialogue move quickly between Joel and Marty and mark seamless exchanges linking their past to their present. Throughout, the audience is challenged to try to relate what it hears and sees to a traditional, linear narrative, all while wondering about larger questions the play raises concerning the inscrutability of time, the uncertainty of human relationships, and how those concerns inform and intersect with each other in powerful ways.
---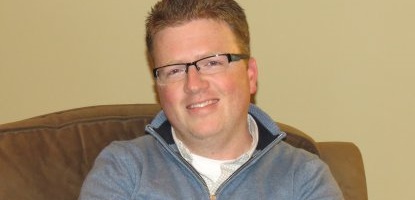 March 2, 2018 | The University of Western Ontario Faculty Association
Jamie Johnston awarded Tom Murphy Memorial Award for Outstanding Service to UWOFA
This award acknowledges the hard work and commitment of a contract faculty member. Jamie has worked with UWOFA in various roles since 2010, and again this year he is on the bargaining team.
---
February 9, 2018 | Western News
FRANKENSTEIN 200
Professors Chris Keep and Steven Bruhm tell us how Frankenstein of 1818 is so identifiable 200 years later as Western News celebrates the 200th anniversary of Frankenstein.
---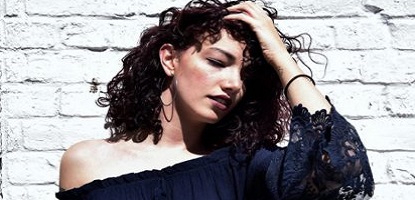 February 8, 2018 | Western News
'Launch' catapults grad's career to new level
After taking a Creative Writing class, English & Creative Writing graduate, Sarah Botelho, found a skill for the craft and didn't look back.
---
February 7, 2018 | University Affairs
Making sense of the paranormal
Professor Chris Keep among researchers from various disciplines seeking not to debunk strange events, but rather to understand how people engage with them, and what this reveals about the human experience.
---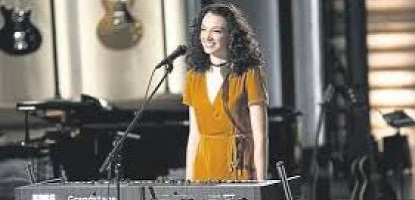 February 1, 2018 | London Free Press
English & Creative Writing graduate, Sarah Botelho was the chosen artist on the CTV reality show, The Launch
After writing her first song at age 9, Sarah (aka Poesy) is now fully immersed in the alternative indie world of music. Her name is derived from an archaic word for poetry, and is a callback to her time as an English and Creative Writing major at Western University. Poesy finds inspiration in literature, 1970s rock, thrift stores, and bus rides, to create the narratives present in her songwriting.
---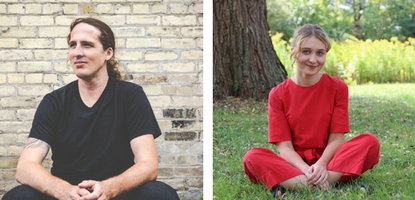 December 14, 2017 | Western News
Western News looks back on 2017
David Huebert, English PhD candidate and Camille Intson, third-year English and Theatre Studies student named Newsmakers of the Year!
---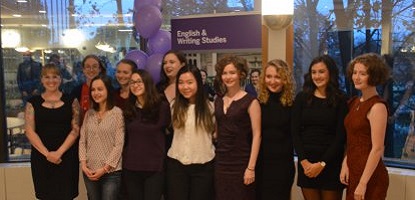 November 17, 2017 | Undergraduate Program
Fall 2017 Scholarship recipients
The Department of English & Writing Studies offers over 30 undergraduate awards & scholarships annually. We were proud to recognize the academic achievements of our outstanding students during our 1st Annual Fall Awards Reception.
---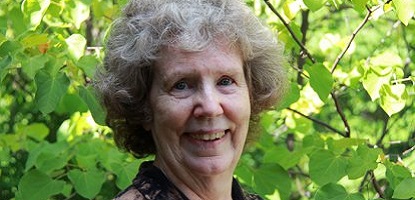 November 16, 2017 | Western News
Artist, class making town-and-gown connections
Students enrolled in Professor Jones' Canadian Literature, Creativity and the Local have helped Penn Kemp, BA'66, CertEd'68, the first Poet Laureate of London and former Writer-in-Residence at Western, curate and promote her work and have even partnered with her in writing and composing poetry.
---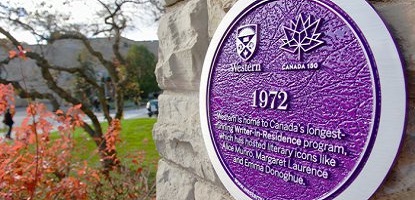 November 9, 2017 | Western News
Heritage plaque honors Writer-in-Residence program
Jan Plug, professor and Acting Chair of the Department of English and Writing Studies, said this latest recognition by the university confirms what he's known for years, which is the department's role as a centre for the linked activities of intellectual inquiry, cultural creativity and social engagement.
---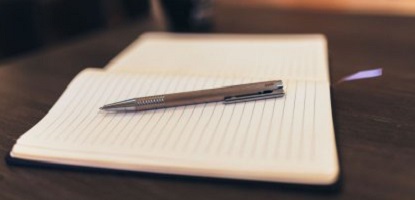 November 7, 2017 | The Gazette
Every student has a story to tell
Sydney Brooman, Western's Student Writer-in-Residence, believes that students from across all the disciplines represented on campus would benefit if more of those outside the Arts & Humanities took creative writing courses. Read her take on why "creative writing does not belong to any one department — it belongs to people with stories to tell."
---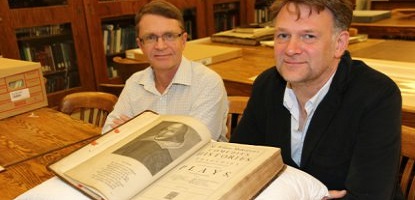 November 2, 2017 | CBC London
Western Libraries' Archives and Special Collections acquires rare 1685 edition of Shakespeare's Fourth Folio
Having a physical copy of the Fourth Folio helps students appreciate what it would have been like to read a Shakespeare play back in the 17th century.
---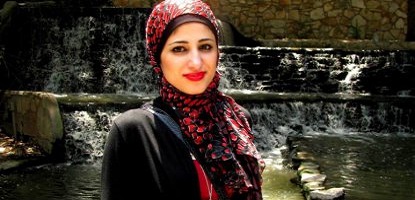 October 5, 2017 | Graduate Studies Program
Dr. Zeinab McHeimech (PhD '17) awarded Governor General's Gold Medal
Dr. Zeinab McHeimech electrified the members of her thesis committee this past summer, who unanimously agreed that her dissertation, *Islam's Low Mutterings at High Tide: Enslaved African Muslims in American Literature,* was the best they had seen in their collective years in the profession. They also noted that her extraordinarily timely, erudite and original research will transform the fields of Arab American and African diasporic studies, as well as American literary history. The external granting agencies have been equally impressed with Zeinab throughout her graduate studies as she has been awarded an Ontario Graduate Scholarship, a Canada Graduate Scholarship and a SSHRC Doctoral Fellowship. Dr. McHeimech is currently a professor of writing and communication at Fanshawe College in London, Ontario.
---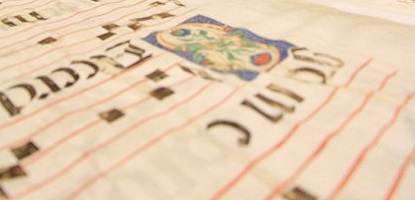 September 28, 2017 | Western News
New fragments of history link students to past
Western's Archives and Research Collections Centre recently announced the donation of 10 medieval manuscripts, as well as accompanying custom-designed enclosures, from English and Writing Studies professor Jane Toswell. This collection includes what is now the university's oldest manuscript, a fragment of Missal of Susanna and the Elders from Germany, circa 1125.
---
September 28, 2017 | Western News
'Sinking' signals a career on the rise
English PhD candidate David Huebert's short-story collection, Peninsula Sinking, is out this month from Biblioasis. Quill & Quire, Canada's magazine on book news and reviews, dubbed Huebert "one of Canada's most impressive young writers."
---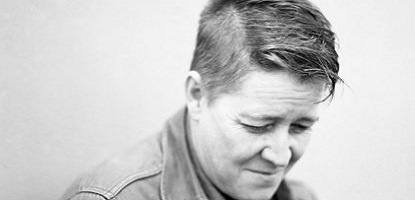 September 21, 2017 | Western News
Coyote: Mainstream is waking up to the fight
Former Writer-in-Residence, Ivan Coyote, returns to campus to deliver a public performance – Neither / Nor: Circumnavigating the Gender Binary in 7000 Easy Steps – followed by author Q&A and book signing at 2 pm on Thursday, Sept. 28, in the Kingsmill Room, Huron University College.
---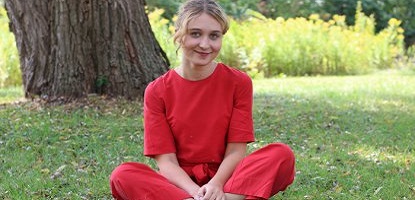 September 14, 2017 | Western News
Camille Intson takes to stages across the country
A third-year English and Theatre Studies student and accomplished playwright, Camille's works have been produced professionally across the country.
---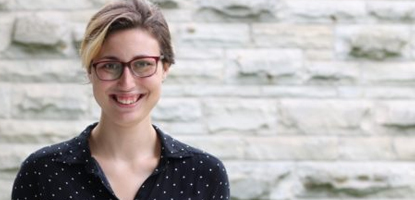 September 14, 2017 | Western News
Sydney Brooman begins her term as Student Writer-in-Residence
As the Student Writer-in-Residence, she hopes to offer events and programming to nurture all writers across campus and the London community, regardless of age, social status or writing experience. She wants to encourage budding writers to work together and share their ideas and words with one another in a collaborative, welcoming environment.
---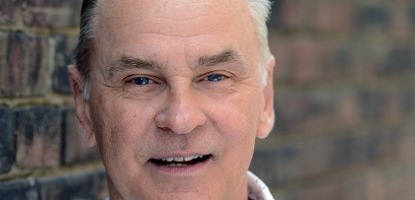 September 7, 2017 | Western News
Daniel MacIvor, playwright, director and actor, 2017-18 Writer-in-Residence
Beginning September 18, 2017 Daniel will be available to offer feedback to, and consultation with, both experienced and novice creative writers from the University and the London community. Contact vivian.foglton@uwo.ca to make an appointment.
---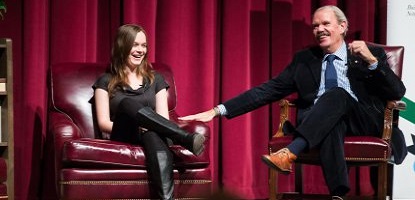 September 3, 2017 | The Gazette
Prof. David Bentley: on attending at university
Attending at university is not just a physical act. It's a way of using your time, in Prospero's words again, "most preciously." Indeed, it's a way of being.
---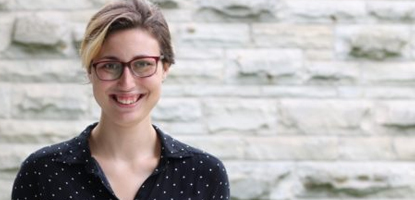 July 27, 2017 | Western News
Sydney Brooman, 2017-18 Student Writer-in-Residence
In September, Brooman will begin her term as the 2017 Student Writer-in-Residence, a unique to North America position developed by the University Students' Council (USC) and the Department of English and Writing Studies. The mandate of the program is to provide support for an accomplished undergraduate writer while allowing other students to benefit from the writer's creativity, expertise, and organizational skills.