Dr. William Fyfe
Geochemistry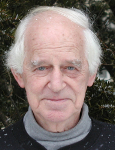 Professor Emeritus
Office: Off Campus
Phone: 1-519-661-3180
Fax: 1-519-661-3198
Email: wsfyfe@uwo.ca
Research Interests
Dr. Fyfe's research has involved studies of metamorphism, nuclear waste disposal, agricultural and environmental geochemistry, resource development and conservation. While Dean of Science at Western from 1986-90, he established the Interface Science Research Centre. In recent years he has worked to increase public awareness about the effects of climate change, and to advocate for the important role earth scientists must play in protecting the environment.

Dr. Fyfe's honours include: Fellow of the Royal Society and Fellow of the Royal Society of Canada (1969); Royal Society of Canada's Willet G. Miller Medal (1985); Companion of the Order of Canada (1989); Geological Society of America's Arthur L. Day Medal (1990); Natural Sciences and Engineering Research Council (NSERC) Gerhard Herzberg Canada Gold Medal for Science and Engineering (1992); Mineralogical Society of America's Roebling Medal (1995); and the Geological Society's Wollaston Medal (2000). Asteroid (15846) Billfyfe is named in his honour.
Professor Fyfe
passed away on November 11, 2013
.