Paul J. Ragogna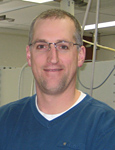 Contact Information
Title: Professor
Office: Rm 2022 BGS,
Labs: 2004 & 2006 BGS,
Phone (Office): ext 87048
Phone (Lab): ext 81474
E-mail: pragogna@uwo.ca
Research Areas
Synthetic Main Group and Organometallic Chemistry
Traditional Research Division:
Inorganic
Education
Ph.D. (Dalhousie); NSERC PDF (Toronto)
Awards
John Charles Polanyi Prize
Research
Our research group has a central theme, which can broadly be defined as synthesizing fundamentally interesting new molecules containing main group or transition metal elements. We target the identification of new structure, bonding and reactivity, which will allow us to gain a better understanding of the periodic table. The ultimate goal is to utilize our observations in practical applications.
We have three concurrent research areas that can be categorized into the following:
Highly charged group 16 element centres
Developing late metal metallopolymers
New phosphonium ionic liquids
This means our areas of interest focuses on several groups in the periodic table: (a) Group 16, noteably S, Se and Te; (b) Group 9 and 10, specifically Co and Ni; and, (c) group 15, with a specific focus on P.
Teaching
1050 - Discovering Chemistry
1100a - Discovering Chemistry I
1200b - Discovering Chemistry II
1301a - Discovering Chemical Structure
2271a - Structure and Bonding in Inorganic Chemistry
2281g - Inorganic Chemistry of the Main Group Elements
3371f - Transition Metal Chemistry
4491e - Research Project
9658y - Topics Seminar
9721b - Advanced Main Group Chemistry
Publications
C. D. Martin, P.J. Ragogna* "Reactions of alpha-diimine ligands with the in situ generated "S(OTf)2 synthon" Inorg. Chem. (Accepted March 2010).


J. J. Tindale, K. Hartlen, A. Alizadeh, M. S. Workentin and P. J. Ragogna*, "Maleimide-Modified Phosphonium Ionic Liquids: A Template Towards (Multi) Task-Specific Ionic Liquids" Chem. Eur. J., 2010 (Accepted March 2010)


J. L. Dutton, T. L. Battista, M. J. Sgro, and P. J. Ragogna* "Diazabutadiene complexes of selenium as Se2+ transfer reagents" Chem. Commun. 2010, 46, 1041 -1043 (Communication).


Caleb D. Martin, Christine M. Le, P. J. Ragogna "Remarkably Stable Chalcogen(II) Dications" J. Am. Chem. Soc. 2009, 131, 15126 - 15127 (Communication).


J. L. Dutton, H. M. Tuononen, P. J. Ragogna* "Tellurium(II) Centered Dications from the Novel Pseudohalide Te(OTf)2", Angew. Chem. Int. Ed., 2009, 4409-4413 (Communication).