Events
Stay tuned for upcoming events for Fall 2014!
---
Past Events: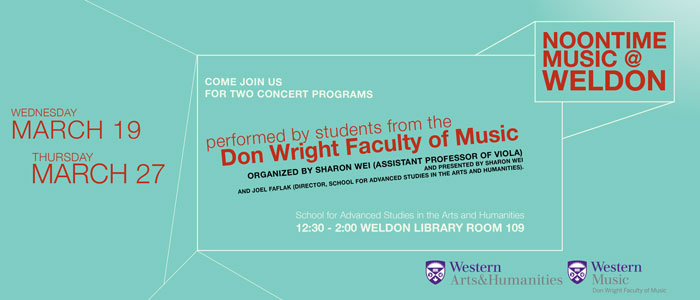 Educating Imaginations: Digital Lecture Series
Thursday, March 13 7-9 pm Central Library, Stevenson & Hunt Room
The School for Advanced Studies in the Arts and Humanities at Western officially inaugurates its new online digital lecture series, "Educating Imaginations." During this launch event, we'll be introducing this new public resource for the Humanities. Enjoy interactive displays and lively conversation, as well as a presentation by Dr. Kelly Olson of the Department of Classical Studies on the subject of "Sex and Shoes."
This event is free and everyone is welcome!
---
SASAH Presents: Ensemble Made in Canada
Monday, December 2 from 9:30-4:30 pm
Recently SASAH invited Ensemble Made in Canada to hold an open-rehearsal session and mini concert in the SASAH room. The students enjoyed a full day of music from this group of classical musicians, rapidly gaining recognition as Canada's premier piano quartet. 
SASAH Reception
SASAH Room (Weldon Library) November 1, 2013 
We recently held a reception to welcome our new SASAH students and the members of the SASAH Advisory Council. To see more photos, visit our Flickr page
---
Deadline for SASAH Applications
February 28, 2014
Visit the Apply page to learn more and submit your application for Fall 2014!