Arts Bulletin
Important updates, announcements and events pertaining to A&H undergraduate students will be listed here. Bookmark this page and visit often! 
Associate Dean's Newsletter:
---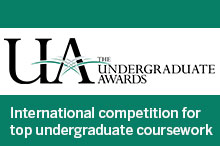 The Undergraduate Awards are the world's only pan-discipline scholarly competition that reviews coursework from students in the sciences to arts and humanities, to social science and many other areas. Students selected for these prestigious awards have the opportunity to have their work published and will receive an all-expenses paid trip to Dublin, Ireland. This competition is open to undergraduate students in their final or 2nd last year of their degree. The entry deadline is
May 29, 2015
but
students must reserve a space in their desired category ahead of time by registering on the Undergraduate Awards website. More info
---
AHSC Website
The AHSC website has been revamped, and is now available at http://www.ahscwesternu.com. Students can find up-to-date event and contact information, as well as important documents and information.
---
Theatre Reviews
Those interested in AHSC Reviews (free tickets to London theatre shows + getting it published on our website) are still able to email Shalu Mehta at smehta57@uwo.ca.
---
University College Renovations:
University College will be closed entirely for renovations starting May 2015. New locations for departments are as follows:
International and Graduate Affairs Building (IGAB) 
Arts & Humanities Academic Counselling: Room 1N20, Main Level 
Film Studies: Room 0N64, Lower Level
Theoretical and Applied Linguistics Lab (TALL): Room 0N09, Lower Level
Students' Council: Room 0N20D, Lower Level
VIEW LOWER FLOOR PLAN
New Address:
International & Graduate Affairs Building
1151 Richmond Street
London, Ontario, Canada
N6A 3K7 
Arts & Humanities Building (AHB) (former Ivey MBA building)
Technical Services: Rooms, First Level
Cultureplex Lab: Room, First Level
VIEW FIRST FLOOR PLAN
English: Room 2G02, Second Floor 
French: Room 2R34, Second Floor
VIEW SECOND FLOOR PLAN
Modern Languages and Literatures: Room 3R02, Third Floor
Office of the Dean: Room 3R34, Third Floor
VIEW THIRD FLOOR PLAN
New Address: 
Arts & Humanities Building
1151 Richmond Street
London, Ontario, Canada
N6A 3K7
Please note phone all staff extensions and our main phone line will remain the same. 
---
Of Interest: