Alumni Profiles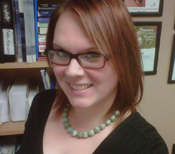 Who I am: Jennifer Hale
My Western degree: Honours Specialization English Language and Literature, Minor Dramatic Literature (2008)
What I do: Community Engagement Specialist at The Arthritis Society, Northest Ontario Division.
What that means: Collaborative thinking and thinking outside the box, which I get to apply every day at The Arthritis Society working with a dynamic group of staff from across the country. Whether I'm recruiting volunteers, delivering education programs or planning fundraising events, I'm grateful for what I learned at Western, and I feel ready to take on the opportunities and challenges that come my way. Where I am in this picture: My office in Sudbury, Ontario My Arts & Humanities degree in Action: To be successful in the non-profit field, you need to be creative, think critically and be flexible enough to apply your skills in many different areas. My degree from the Faculty of Arts & Humanities has given me those skills and then some.
---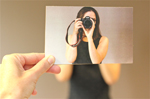 Who I am: Adela Talbot
My Western degree: BA '08 (English)
What I do: Reporter/Photographer, Western News, Communications and Public Affairs, Western University
What that means: Every day I get to speak with and photograph awesome faculty, staff and students and learn from them as they share stories not just about their research but also their unusual, interesting and/or inspiring academic, professional and personal endeavors. When I'm done that, I write and share their cool stories with the campus and greater London community. Each day brings something new and different and that's a wonderful thing. Where I am in this picture: In the office, August 2012 My Arts & Humanities degree in Action: I always tell people that my English degree didn't just teach me to read books and poems. It trained me to read situations and people. It taught me to communicate, to think for myself and to think critically, to listen carefully and pay attention to detail. All of these skills translate into what I do each day. I take great pride in being a Western Arts & Humanities alumna – its wonderful faculty encouraged and nurtured these skills while fostering my creative intellect.
---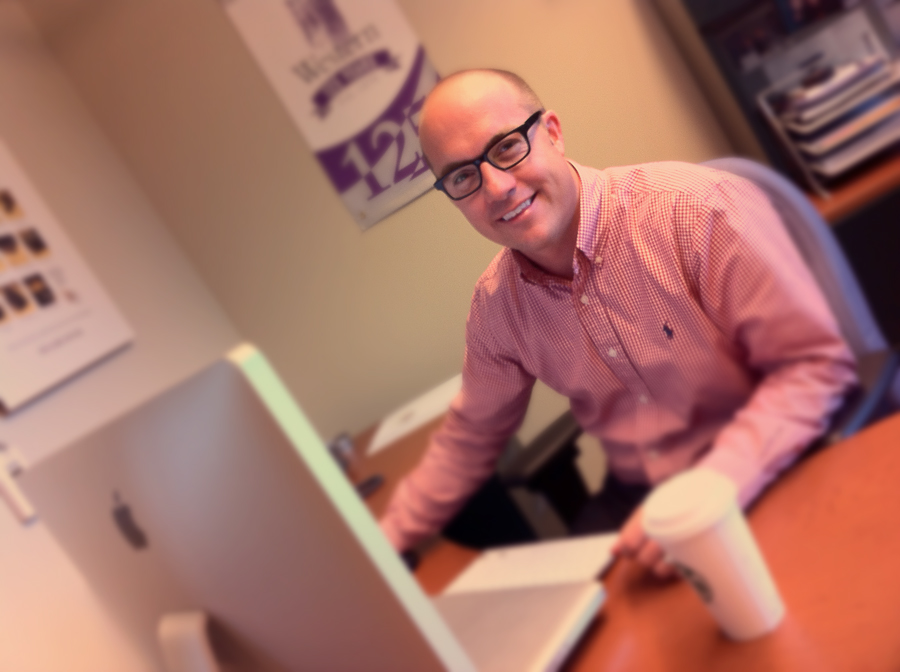 Who I am: Terry Rice
My Western degree: BFA '98, MA '00
What I do: Director, (Marketing & Creative Services), Western University
What that means: I lead a talented and creative team of graphic designers, web designers and project managers. Together, we produce print and electronic communications that help promote, protect and enhance Western's reputation. Where I am in this picture: My office My Arts & Humanities degree in Action: I believe we are living in an age where "big business" values creativity more than ever before - and that's exciting. Spreadsheets alone won't make any company interesting or profitable. My visual arts education allowed me to be creative in all aspects of my course work. And now, whether I'm working on ad copy, art directing a photo shoot or pitching a storyboard, I use lessons learned from my BFA every day I'm at work.
---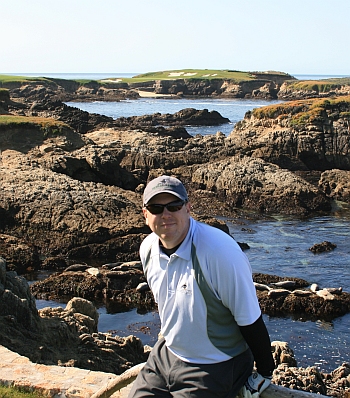 Who I am: Robert Thompson
My Western degree: Hon. BA, English and History, 1995, MA. Journalism, 1997
What I do: Contributing editor, business and sports writer, author
What that means: After spending the start of my career as a reporter at the National Post, I wrote a book with Tim Hortons' co-founder Ron Joyce that became a Canadian bestseller and embarked on a freelance career writing business and sports, though primarily I write on golf. I'm now Senior Writer at SCOREGolf magazine, Canada's top golf publication, run my own website, Canadiangolfer.com, and work as a columnist for Sympatico.ca Sports. I also edit and create Pro:Files, the official magazine of the Professional Golf Association of Canada. I've written five books and contributed to several others. Where I am in this picture: Cypress Point, a pretty cool golf course in California near Pebble Beach My Arts & Humanities degree in Action: I was never quite sure where my education would lead me, so in retrospect I'm thrilled to have a degree that adapted well to the changing demands of the business world. Certainly my time at Western taught me how to take a great deal of information, find the most valuable elements and make sense of it — all in a short time. That's a real skill for any journalist, and one of the facets I most value and find useful from my education. I also feel my degree helped give me a background in a wide area of literature and pop culture, elements I'd use throughout my career to date. No, I didn't play much golf while at Western, but my education at the school helped me recognize that even sports writing could be considered, thoughtful and well-crafted
---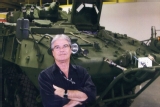 Who I am: John Mellott
My Western degree: BA '83( English)
What I do: Business Process Analyst, Logistics Engineering, General Dynamics Land Systems Canada
What that means: Not everyone in a large engineering group is an engineer or technologist. Working in a small group in the centre of several hundreds of engineers and technologists, I have a role that is varied in scope. From years of experience (31 so far), I now create or facilitate the development of new processes, and changes to existing ones, to ensure that technically-employed people perform their responsibilities in an efficient and consistent manner. I am responsible for coordinating Continuous Improvement in our department. I have been in charge of major Bid & Proposal (B&P) efforts to plan and cost new Logistics Engineering programs, especially for technical manual production. Also, I occasionally write articles and marketing pieces to explain our Logistics products (especially technical manuals) to both other areas of the company and to our customers: governments of Canada and several friendly countries around the world. I have been project lead for some R&D initiatives, including an Interactive Electronic Technical Manual (IETM) format that is currently being adapted for the Canadian Army's LAVs (Light Armoured Vehicles) and other customers. This provides a cost-effective laptop-hosted, browser-based maintenance tool that replaces a shelf-full of paper Operator, Maintenance, Spare Parts, and related manuals. Oh, and "Special Projects, as required", a catch-all for whatever gets assigned. Where I am in this picture: In front of a Canadian Army LAV III, in our Presentation Area, back from Afghanistan for engineering and technology upgrades and reset (overhaul to factory-new condition) after long, hard service protecting our troops there. We are proud of providing that protection for our young men and women in uniform. My Arts & Humanities degree in Action: I started as a technical writer, and then went on to become a writer supervisor, leading development of manuals in multi-million dollar programs to support our vehicles. As one of the most experienced in the department, with broad knowledge of the details of each area's workings, I have evolved into my current position that touches each internal area, and reaches out to other departments (e.g. Production, Supply Cain Management, and Program Administration). Throughout the years, my English degree has been invaluable. All those nasty essay and exam questions with "Contrast and compare…" and "Analyze." enforce modes of thinking that translate into the ability to approach a complex situation, break it down, consider alternatives, and achieve the optimum solution in nearly any context (often before you realize it). I have three community college diplomas, which provided skills in specific technical subjects, and helped get me in the door, but to move around (and up) and gain experience in different jobs, a degree is essential, and one that provides broad thinking skills, like English, is a great career tool. When I have been in positions where I have been hiring, I have always found places for English grads, often to their initial surprise. We need those thinking and organizing skills in positions that do need require an engineering degree or college technology diploma. English grads can be trained to perform a multitude of roles beyond the typical teaching and law ones upon which undergrads often focus. In appreciation for what the English Department has given me, I have made provision for a bequest in my will to fund an award for English students in the (I hope distant) future